A complete guide to
Application Retirement
By Avendata | March 31, 2022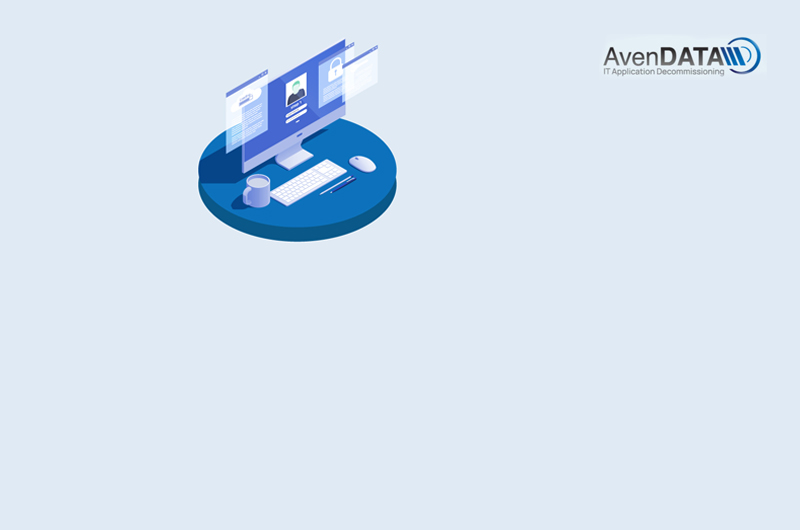 Information technology (IT) applications are now being retired and replaced by newer ones that are more efficient, user-friendly, and cost effective. This is a good sign of the growing service organization that the business has been striving to achieve. Do you have legacy systems that are not used productively anymore, but you can not shut them down because you still need to retain the data? Here comes Application retirement term.
What is Application retirement ?
Application retirement
is the process of shutting down redundant or obsolete business applications. It is also Known as applications decommissioning. Although the application will still have access to old data, which is no longer needed by the organization. It is important to note that application retirement does not affect a company's primary systems, applications, or data; instead, it does affect secondary systems and applications such as No Longer Required (NLR) software. While the business may lose the ability to perform certain tasks during this transition, this allows for much-needed cost savings and resources.
Benefits of Applications Retirement
The benefits of IT application retirement are many. One benefit is that it can helps to reduce the overall cost of a company's IT budget. Application decommission helps to eliminate the maintenance, infrastructure, and licensing costs associated with IT applications that are not being used anymore and You can use that funds for other purposes which are more important for the business. Another advantage is that it can help organizations to be more agile in their business practices. It supports structured, unstructured and semi-structured data and content. It enables you to securely switch off all legacy systems in compliance with legal requirements so they won't have to worry about any data leakages or security breaches.
Application Retirement Process
The application retirement process is an important part of the life cycle of your software. Here are the steps that you should follow to complete a successful
software decommission
.
The initial step is the system analysis. The purpose of the system analysis is to enable us to estimate a time frame for archiving your legacy system and calculate costs, on the basis of which you can make your decision and start planning. The result of the system analysis is always a fixed price offer, which you can accept or reject. In general, the analysis takes less than two hours. The system analysis process is divided into two parts: Technical part for clarification and Business part for clarification. for more info System analysis process specification about please click below link.
https://avendata.com/application-decommissioning
After the system analysis has been successfully done, you ask yourself whether you want to start the project with us. Once you have decided for the project, there will be a kick off meeting in which your team will get to know our experienced project manager.
3) User acceptance test - project handover
The last step is acceptance from your side. As you do this, you will test samples, check the certificate of completeness and documentation. Furthermore, we would be happy to provide you with all of our samples. And so you have an extensive set of test data. If everything is correct so far, you will receive an acceptance report from us and you can shut down your system, since all the necessary information can then be reviewed within the ViewBox and properly archived. From that moment on, the risks of the legacy system are gone and you start saving money (maintenance/electricity/personnel costs…). Even after acceptance, we are certainly still there for you through our support services. Our support is provided, for example, when an audit is announced, or if further training is required, or due to a change of employees.

The team of specialists of AvenDATA has more than 18 years of experience in Application Archiving and Retirement Services. The know-how includes more than 250 systems – from SAP to Oracle Financial up to Navision. More than 3,100 customers worldwide have been relying on AvenDATA GmbH since its foundation. Lean back and watch AvenDATA, as a strong and trustworthy partner, archive your legacy systems in accordance with legal regulations.