AvenDATA's solution fosters business development
By Avendata | September 23, 2022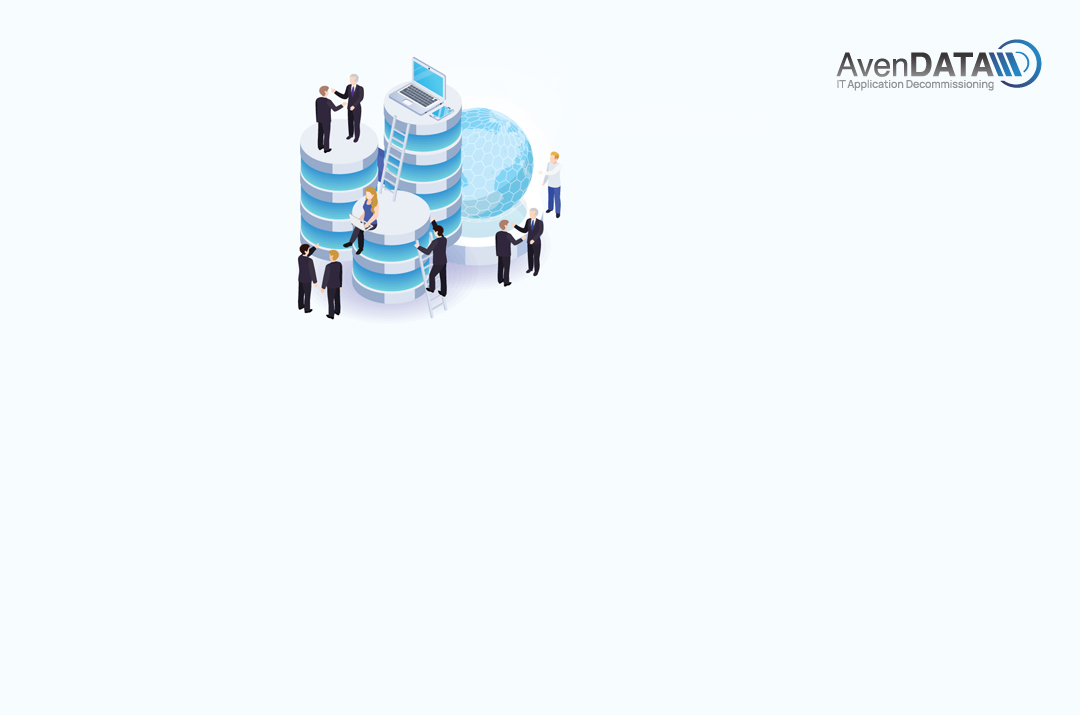 Consider that there is an immediate requirement to
archive a legacy system
, or that the client needs an urgent integration of a new solution to an existing one along with a plan to re-design the system. A company that can not only provide the necessary solution but also fulfil the short-term and long-term objectives is the need of the hour.
AvenDATA comes as the rescuer with 18 years of extensive experience, a record of 600+ archiving projects, exposure to 250+ applications from different vendors, and above all, an expert team of 180+ professionals.
With immense expertise in handling enterprise-level projects, we showcase great achievement in archiving. Our team follows a streamlined process, involving clear identification of goals; defining the project scope (for archiving or integrating); following a strict timeline; and providing full customer support.
Impulsive use of legacy systems Most of the scenarios clearly show that the companies are in a state of compulsion when it comes to the use of such systems. It can be either an older software piece, an obsolete but mandatory technology, and/or an existing solution that prohibits the company from learning, updating, and growing with the latest market exigencies.
The problem multiplies when the realization of the following facts is acknowledged but often accepted very late. A few of the identified issues include: no vendor support; no security updates; non-integration with the latest trends; numerous software patches resulting in slower and costlier processes.
Although the companies go through these troublesome experiences, they still use these systems and are unable to come out of the trap. This could be due to customised processes, criticality factors, risk of updating and losing valuable data, undocumented rules, non-compliant regulations, and complex replication of the functionality.
It costs an arm and a leg The use of such setups not only creates an incompetent system but results in exuberant costs too. For example, the processes are cumbersome in terms of manageability, thereby inviting high maintenance costs. Vendor support (especially third-party) often becomes a challenge with older systems. Even after paying a huge amount, the support might not be sufficient to sustain the crippled system.
Next, the older professionals, with their outdated skillsets, are no longer efficient at matching the latest customer requirements. New expertise and skillsets are associated with higher compensation. Finally, the task of adding or modifying an existing system of business development processes becomes a nightmare both in terms of technical challenge and higher costs.
These costs in turn affect the project timelines and budget constraints throughout the project life cycle. Higher chances of errors and bugs, along with a longer time for testing the features, result in further delays. Moreover, it is difficult to integrate the newer functionality with the older one, eventually leading to higher integration costs. All these factors make it difficult for the organisation to balance business competition while actively participating in the ever-growing digital transformation challenge.
AvenDATA's advanced business sense AvenDATA has proved that it has the best expertise in archiving legacy systems. It was founded in 2003 and has emerged as one of the leading providers in the fields of system archiving and IT application decommissioning. It has advanced business acumen and has achieved this goal in less than a decade.
We acknowledge the fact that archiving can be a complex and risky process, but our solution is the one with enormous benefits for the company. We are an effective enabler in keeping the development processes up-to-date with the current technologies. With us, you can be rest assured that you will leverage the best business value. We guide, help, and support you to manage and protect sensitive and valuable data. We are a certified solution provider with an ISO 27001 certification.
Our IT security processes are reviewed regularly for certifications and compliance as per the latest information. Our solution has the capability to archive the company's legacy systems and perform an effective and efficient
IT application decommissioning
.
The solution has been designed with a helpful, logical, and methodical approach to enable excellent and outstanding business development solutions.
We understand the security risks and know that they tend to increase the vulnerability at the organizational level. Undoubtedly, ViewBox enhances performance and efficiency, thereby facilitating new opportunities. It puts you much further ahead in the competition and directs you to better data governance.
Our pillars of the company, strong leadership, consist of leaders with a clear vision, true inspiration, and an exemplary quality of strategic and critical thinking. The team has showcased incredible credibility at an international level.
We also have a dedicated support team of skilled professionals who interact well and provide the best of assistance/customer service. Our customer support team realizes its responsibilities and is always on the front foot to resolve customer queries, recommend customized solutions, and assist the product users via features and interlinked functionalities. Finally, our sales team is always available for personal or web-oriented presentations.
Get in touch with us to archive your company's legacy systems and perform a successful and valuable IT application decommissioning.