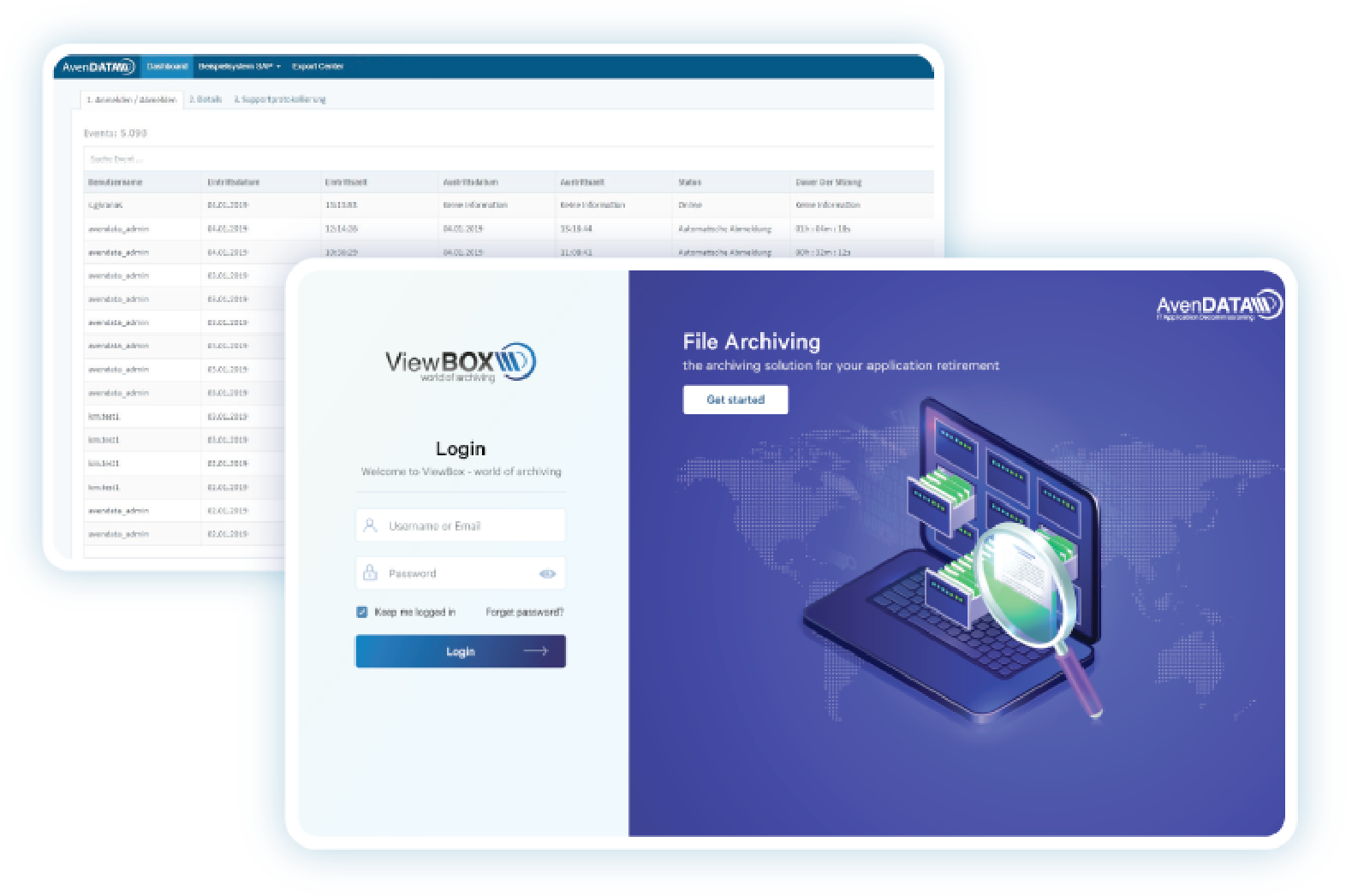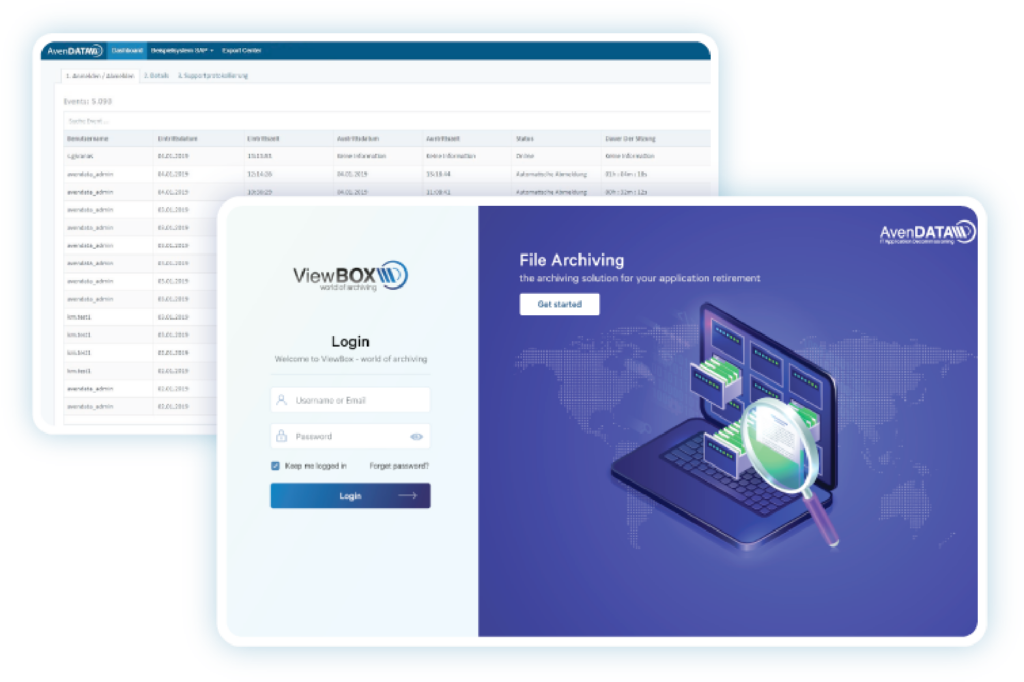 Stay independent in
archiving applications
ViewBox is not limited to certain applications. In addition to
ERP systems, ViewBox allows you to archive CRM systems,
POS systems, payroll systems, document management systems
and many more. It does not matter whether the data in the
systems is structured or unstructured. Below is a selection of
systems that have already been archived with ViewBox.
This archiving solution can be used in the context of
decommissioning legacy systems. This may be the case after
a change of application or when business operations are
discontinued. In addition to complete archiving, it can also be
used for partial archiving in the context of carve-outs.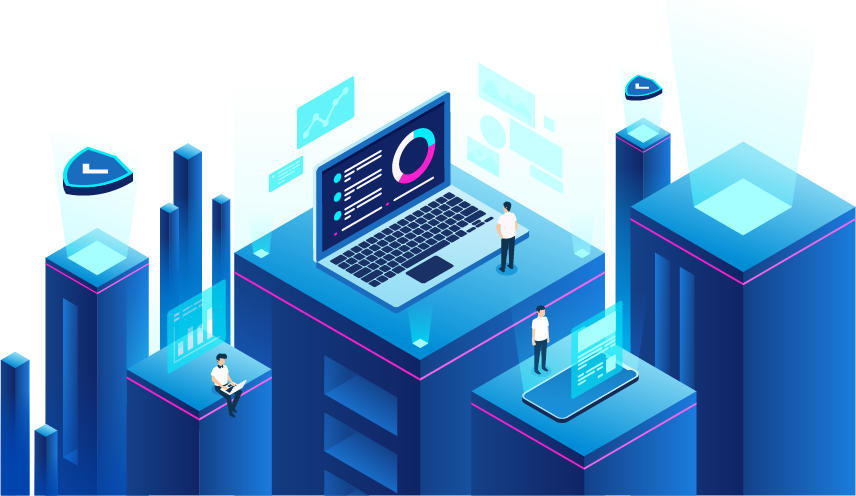 INTERNATIONAL COMPANIES RELY ON AVENDATA
The following is an excerpt of ViewBox users

KSB
We were able to successfully archive our legacy system with the company AvenDATA.

Putzmeister – USA
Together with AvenDATA we were able to successfully decommission 2 SAP legacy systems.

Zublin – USA
Together with AvenDATA, our partner for archiving topics, we were able to successfully decommission legacy systems.

vitos – USA
We were able to successfully archive one of our legacy systems with the IT service provider AvenDATA.

Etatec
We were able to successfully archive our SAP legacy system with the company AvenDATA.

Plansee
Together with the company AvenDATA GmbH we were able to successfully archive the data of an SAP ERP system including attached documents.

lbbw
We were confronted by the challenge of archiving a central order control system and a configuration management system with software artifacts. Other projects had successfully archived legacy systems with AvenDATA before. After a common archiving project, we still have access to the data via viewbox and are able to finally shut down the two legacy systems.

EagleBurgmann
Together with AvenDATA we managed to successfully archive Microsoft Dynamics legacy system across different countries within Europe. The Avendata viewbox meets our storing requirements from a business and audit perspective. The project was conducted in a professional and timely manner.

Sana Kliniken
We chose the service provider AvenDATA to archive our industry-specific legacy system.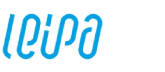 Leipa
Due to the joint archiving project with avendata we are able to finally switch off our AS/400 based legacy system.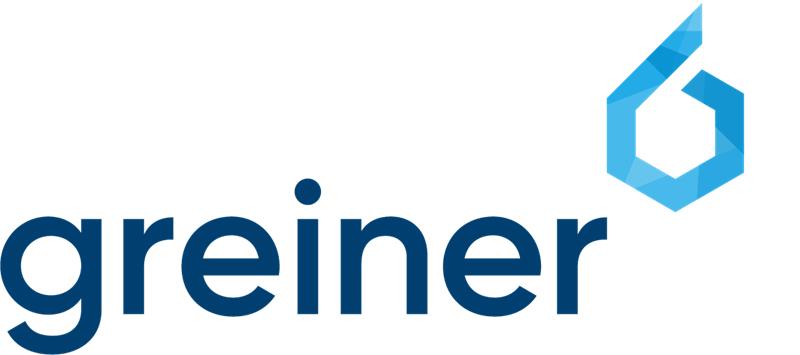 Greiner
Together with AvenDATA, we were able to successfully manage our carve out from an SAP system.
Klingel Gruppe
After a provider selection process, we chose the provider AvenDATA to archive our HOST. The archiving was successfully completed according to our specifications and the specifications of our auditor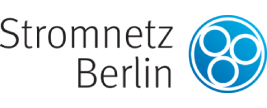 Stromnetz Berlin
Due to a short-term shutdown of our old billing-system, we needed a reliable and convenient solution at short notice – the Avendata Viewbox made this available to us.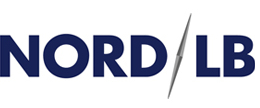 Nord-lb
As a result of a successful IT project with AvenDATA, we were able to archive and finally replace a complex core banking system.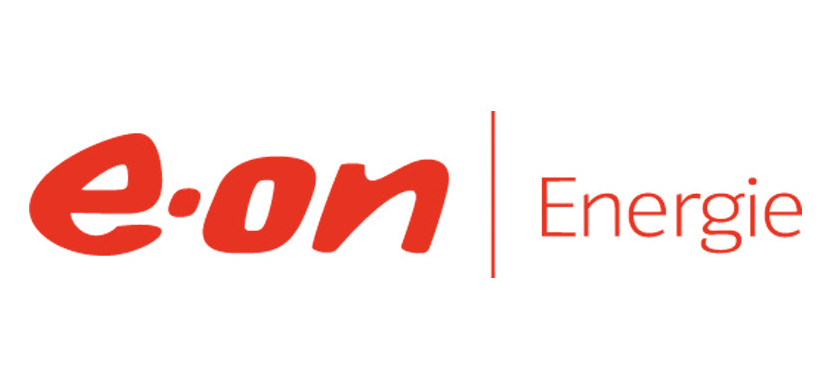 E.ON
Due to the archiving project with AvenDATA we are in a position to finally switch off our legacy system.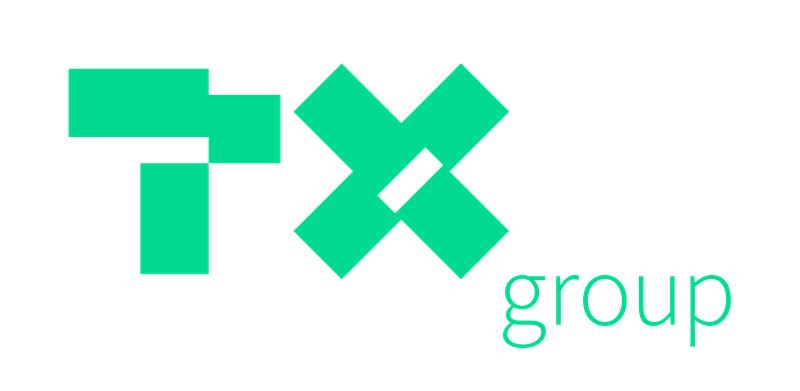 TX Group
We have successfully archived part of our SAP systems with AvenDATA and were able to decommission them. Other legacy systems (SAP, Cognos) will follow.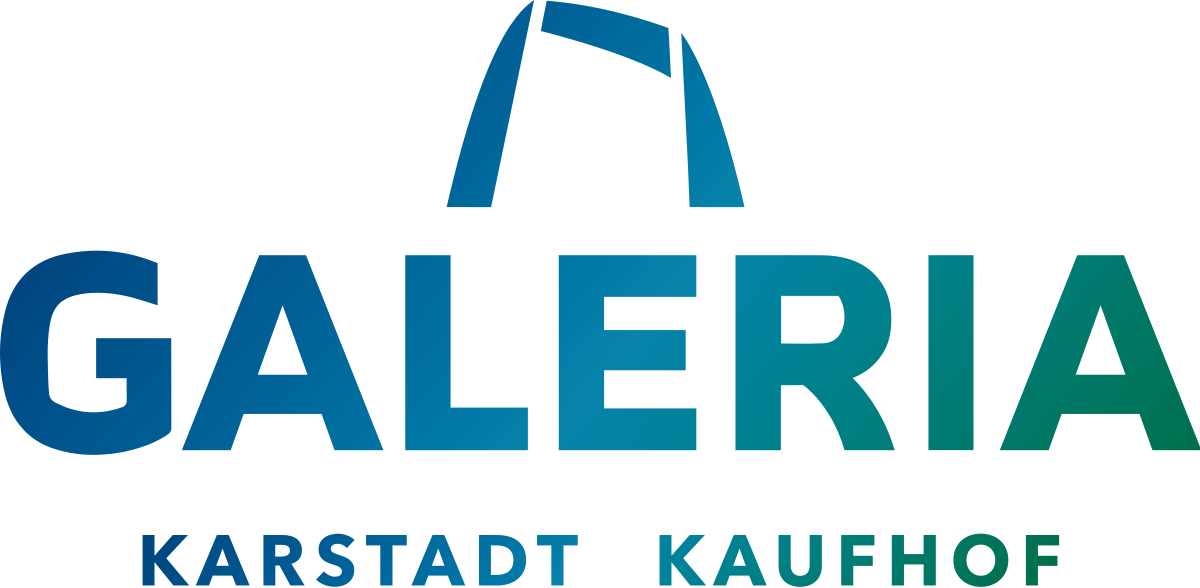 GALERIA – USA
By selecting a provider for archiving our various legacy applications, the decision was made in favour of AvenDATA. Together we were able to successfully archive the data in such a way that we continue to have the relevant data available in an archiving system, but can switch off the legacy systems at the same time.
BITMARCK
We successfully archived our Wilken accounting system with AvenDATA. This allowed us to decommission the system without losing access to our legacy data.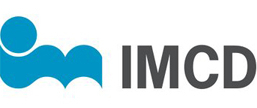 IMCD
In an international context, an ERP system had to be replaced in several countries and archived in an audit-proof manner. Both the time and knowledge component were decisive.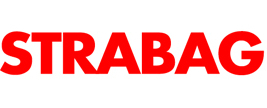 Strabag
In the past few years, we were able to archive various legacy systems resulting from acquisitions and system consolidations together with AvenDATA, then switch them off and save on IT costs for the continued operation of legacy systems.

BauerMedia Group
With AvenDATA's ViewBox, we were able to successfully archive an old financial accounting system and then switch off the legacy system.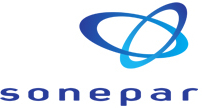 Sonepar
Due to a system integration, we were able to successfully archive a legacy system for one of our subsidiaries with AvenDATA and then switch it off.

Alpiq
Alpiq has already carried out several projects for the legacy data archiving of SAP data with the help of Avendata. The motivation was different: sometimes it was a subset of an SAP system that was in a sold part of the company in their SAP system, which are now for auditing purposes with the Avendata, another time it was about a whole legacy SAP system to dissolve to drastically reduce operating costs.

Mapple Bank -USA
At the time, we chose the IT service provider AvenDATA to archive our core banking system and an AS/400-based platform.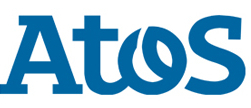 Atos
In order to be optimally prepared for a digital external test, Atos Origin has commissioned AvenDATA GmbH with the configuration of their SAP DART module. Atos Origin is perfectly prepared for a digital audit due to this uncomplicated and secure solution.

Service Partner
Together with AvenDATA we have archived our SAP system.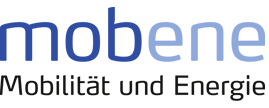 Mobene
We were able to use the archiving solution ViewBox to shut down various legacy systems – without losing access to the legacy data.

Pepko
In compliance with the regulatory requirements, we were able to successfully and efficiently archive our SAP legacy data last year using the ViewBox archiving solution from AvenDATA.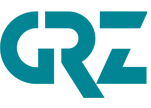 GRZ
In cooperation with the AvenDATA company, we were able to successfully archive data from an SAP legacy system in a resource-saving manner.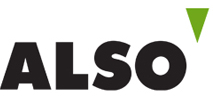 Also
In recent years, we have repeatedly been able to archive the most diverse legacy systems using the ViewBox archiving software and then switch them off. The solution could be used for both structured and unstructured data.
Considering that ViewBox has been in use worldwide for many years, the list of features is long. In addition to legal requirements, various user features have been implemented. Below is an excerpt of the features that are supported by ViewBox: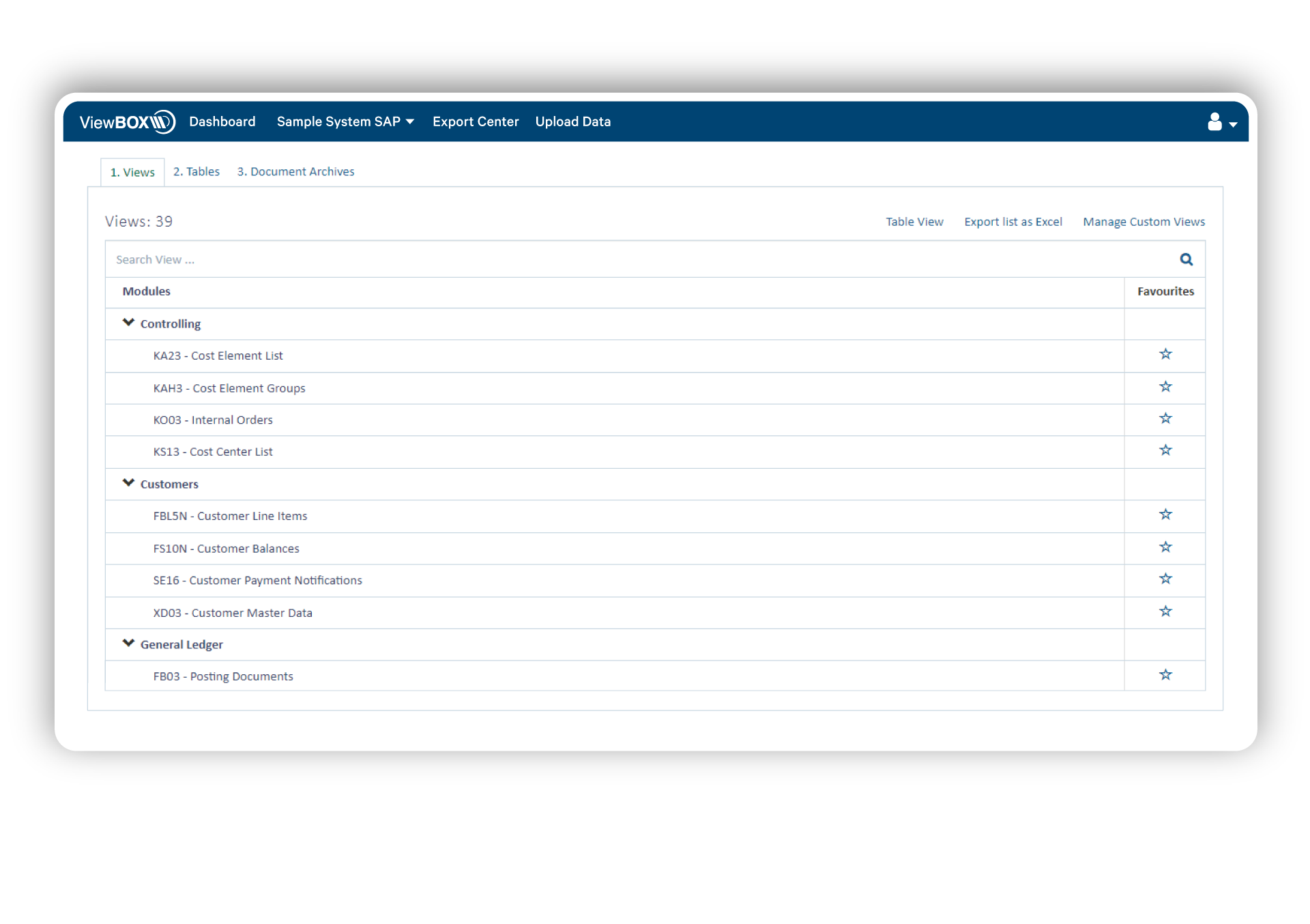 In the dashboard, you will find an overview of all the views, tables, and documents. You can select them as per the requirement(s).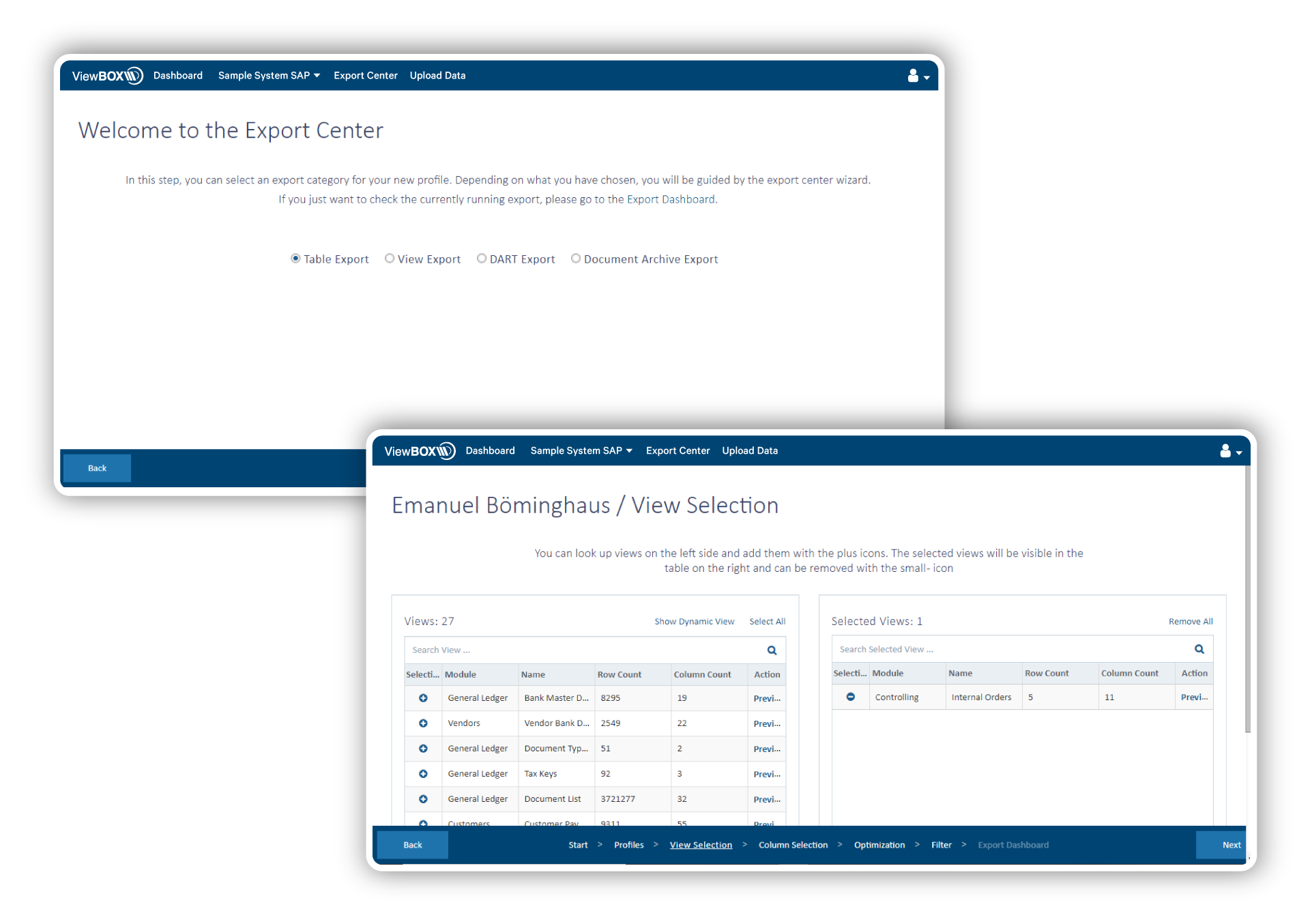 The export center supports you in providing data extracts in GoBD, CSV, and DART format.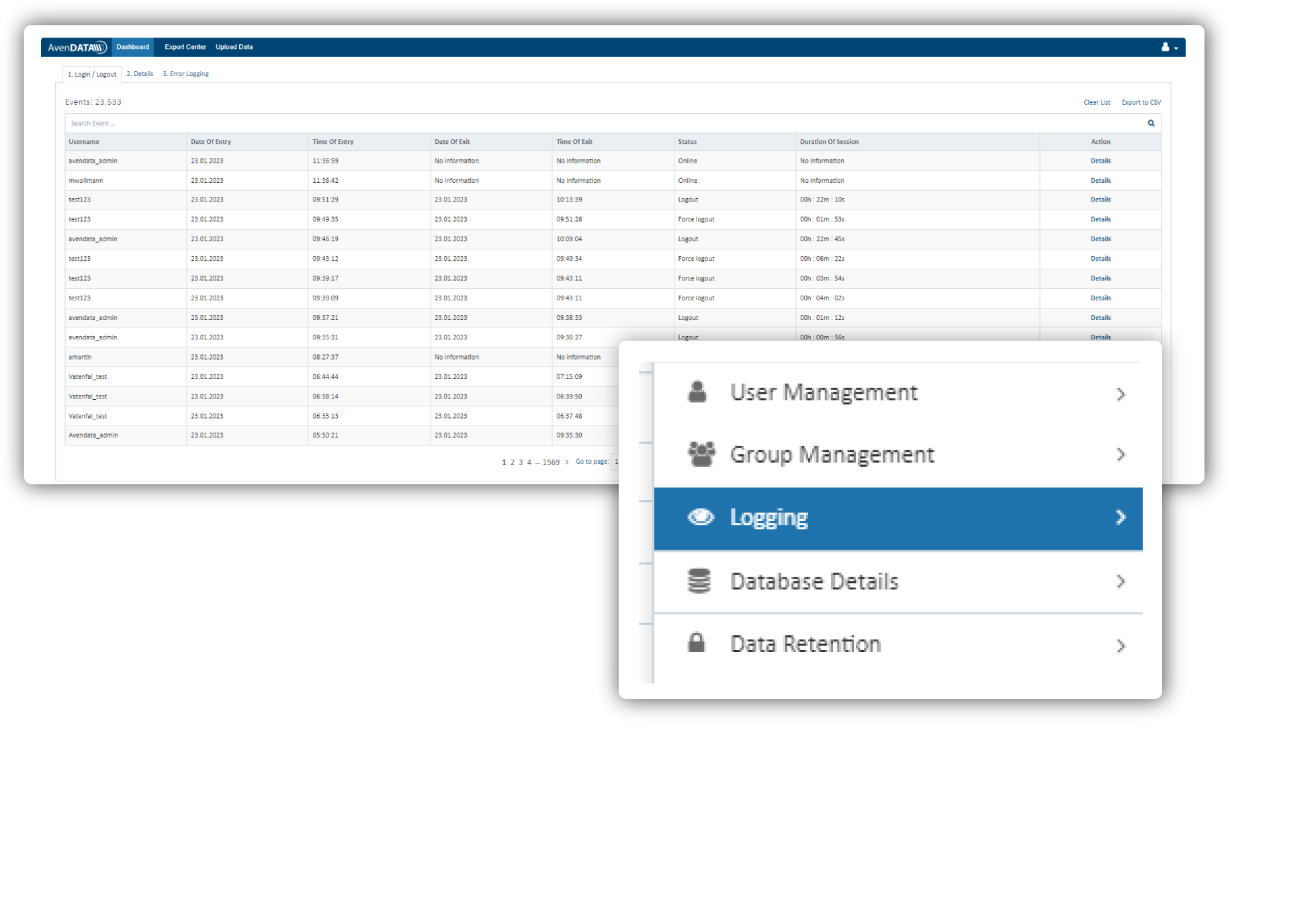 Here the logs of the user incl. login data are stored.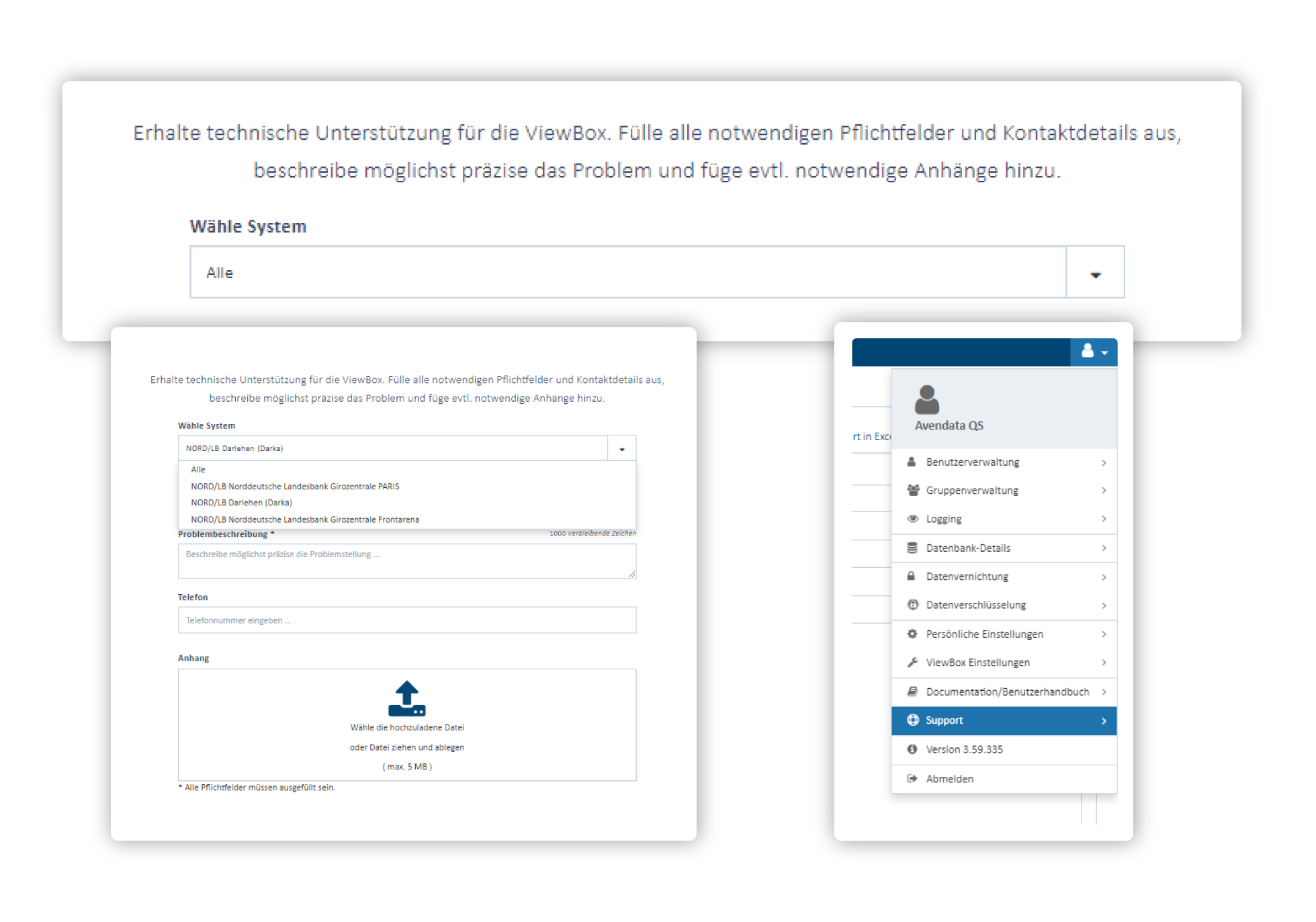 Service tickets can be set in this area.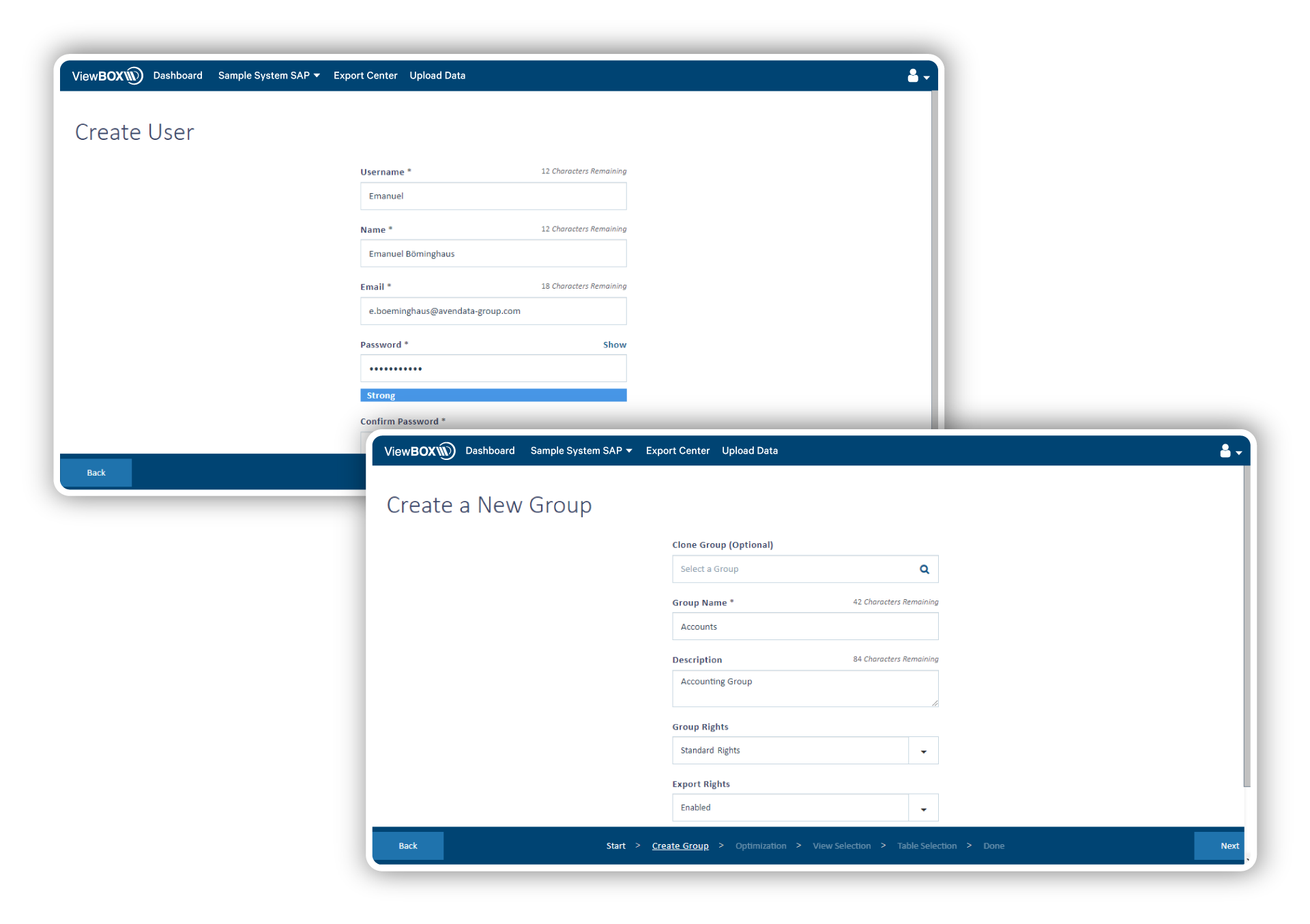 The feature of user management helps you to limit an access to the data.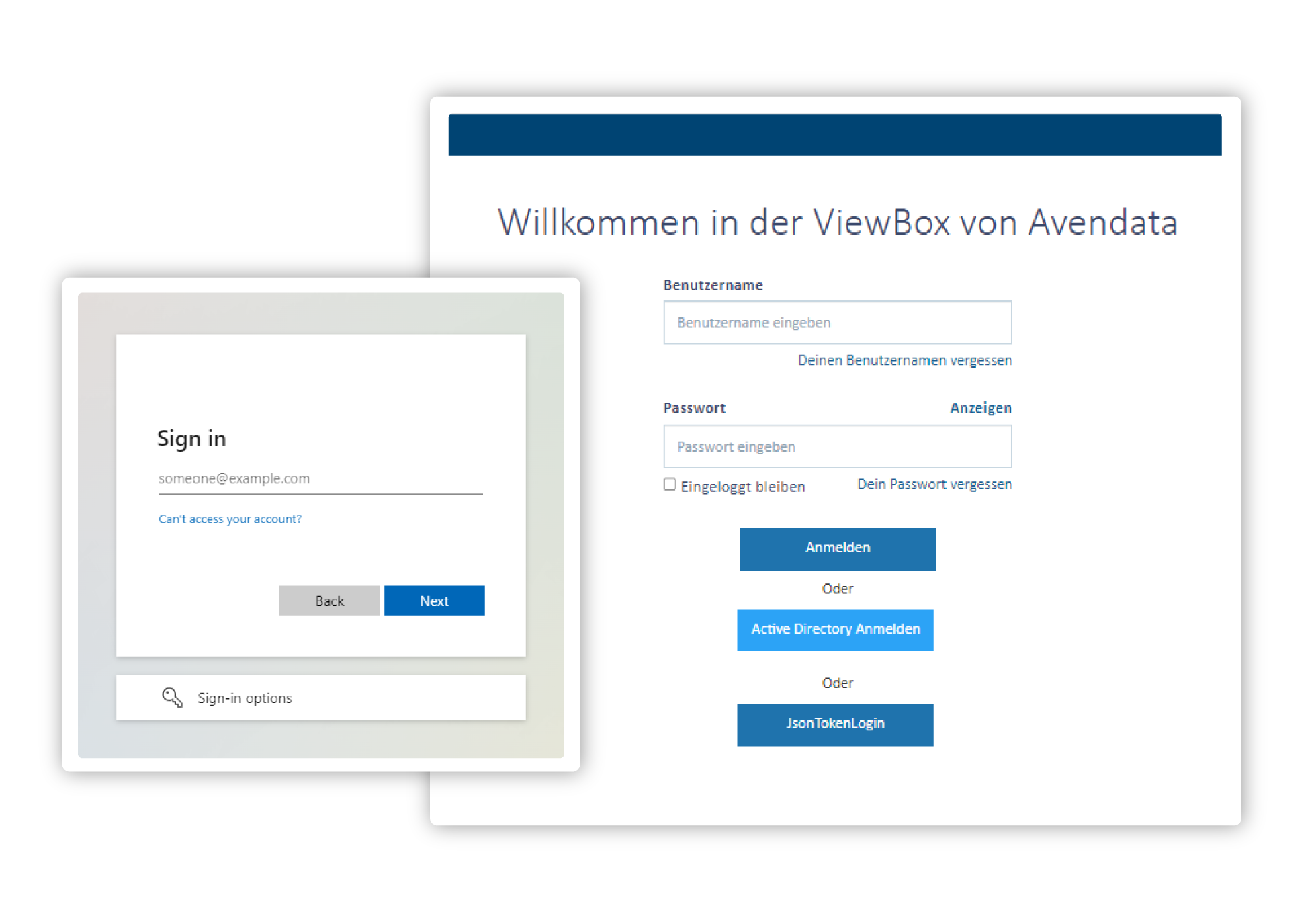 With the function, the login is possible in a standardized way.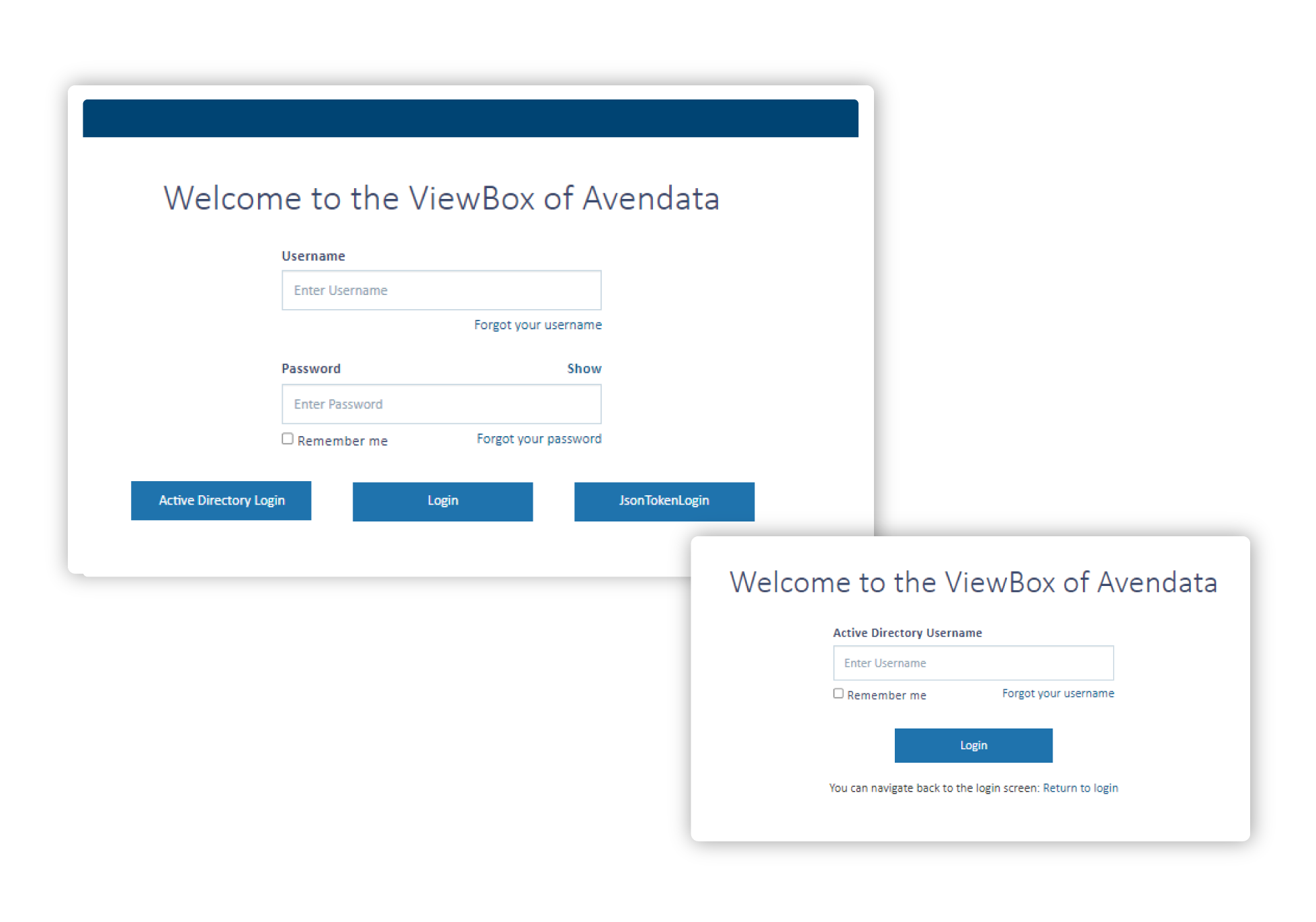 The users can simply be taken over from the existing Active Directory.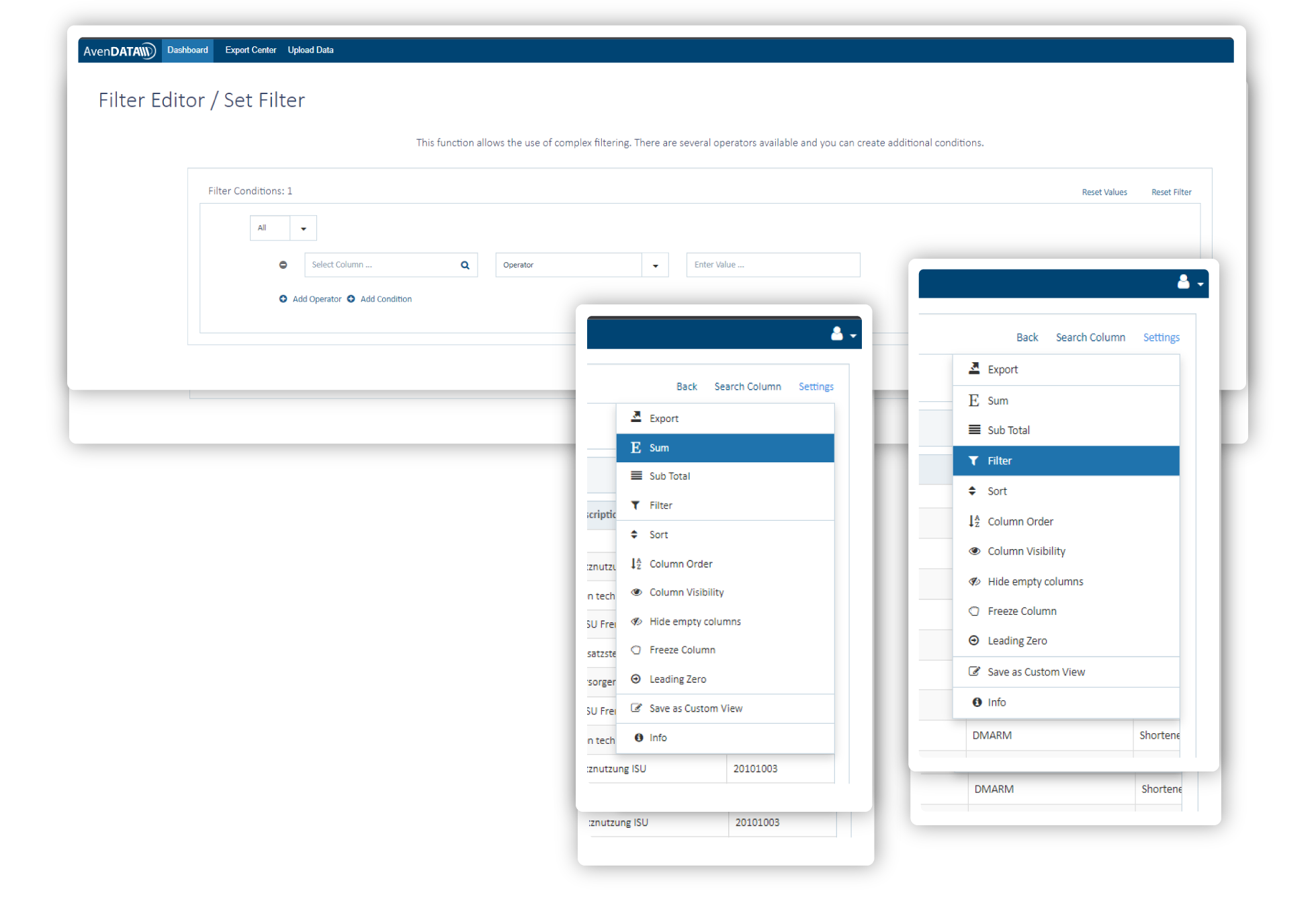 Users can evaluate their data with various functions.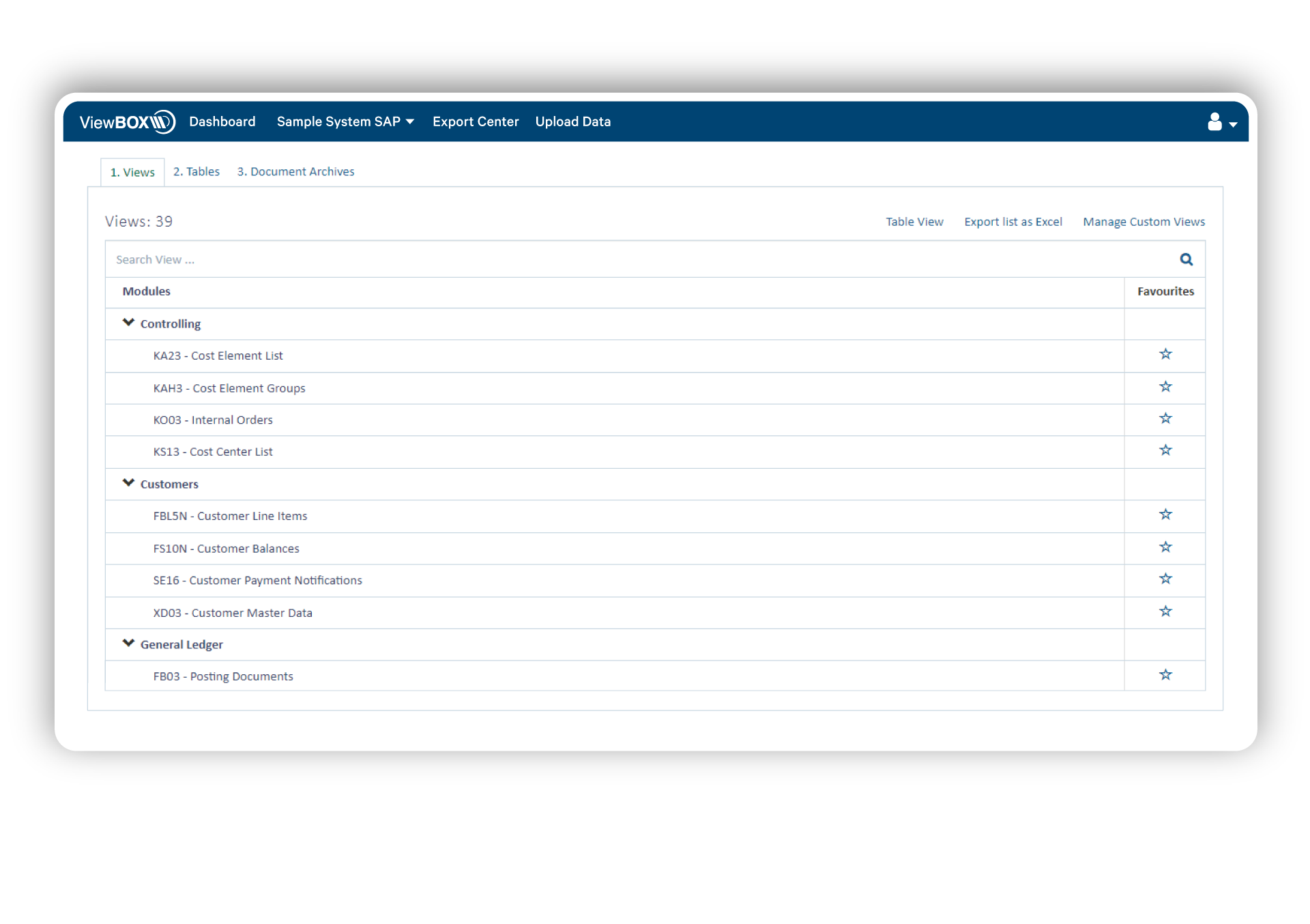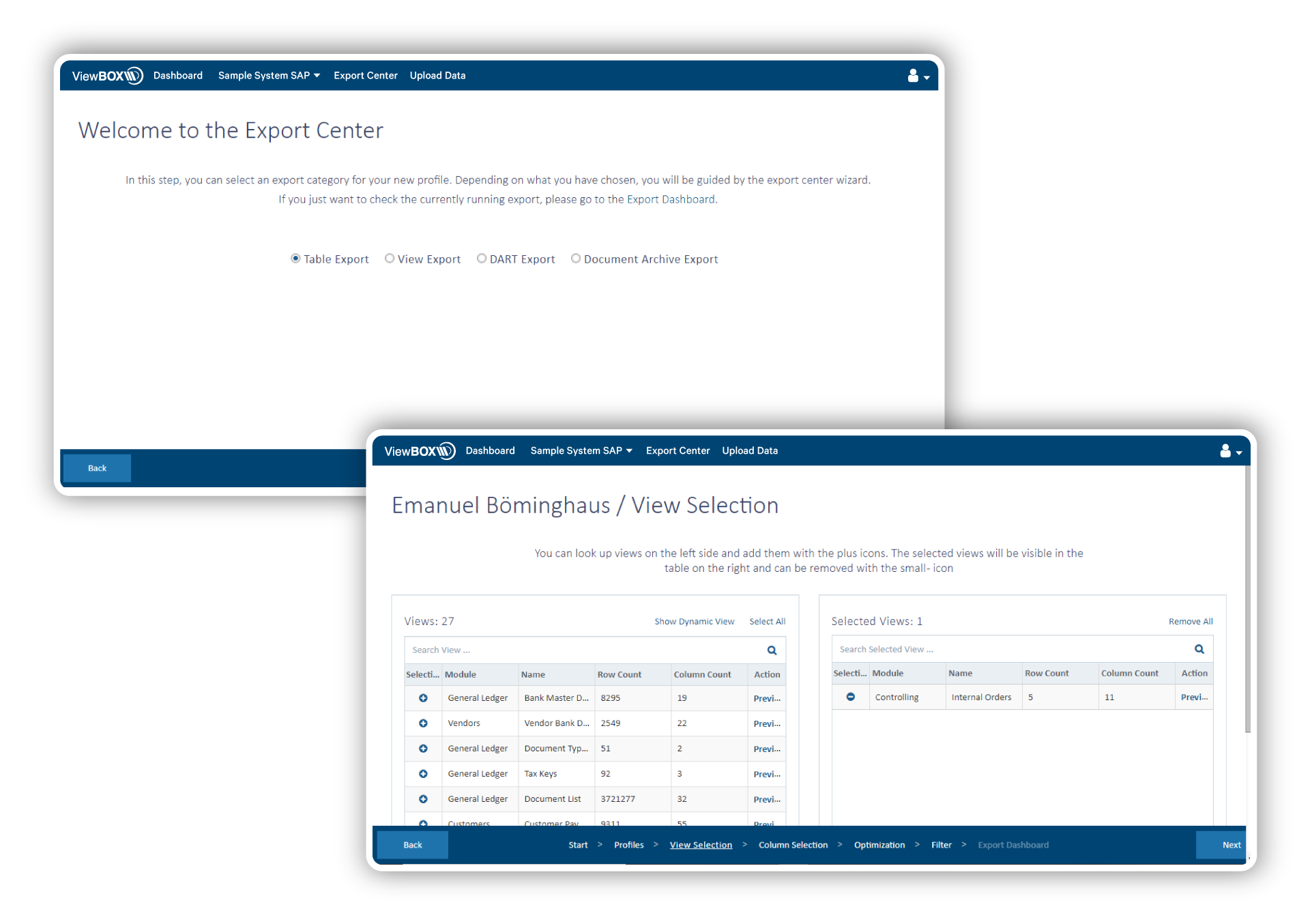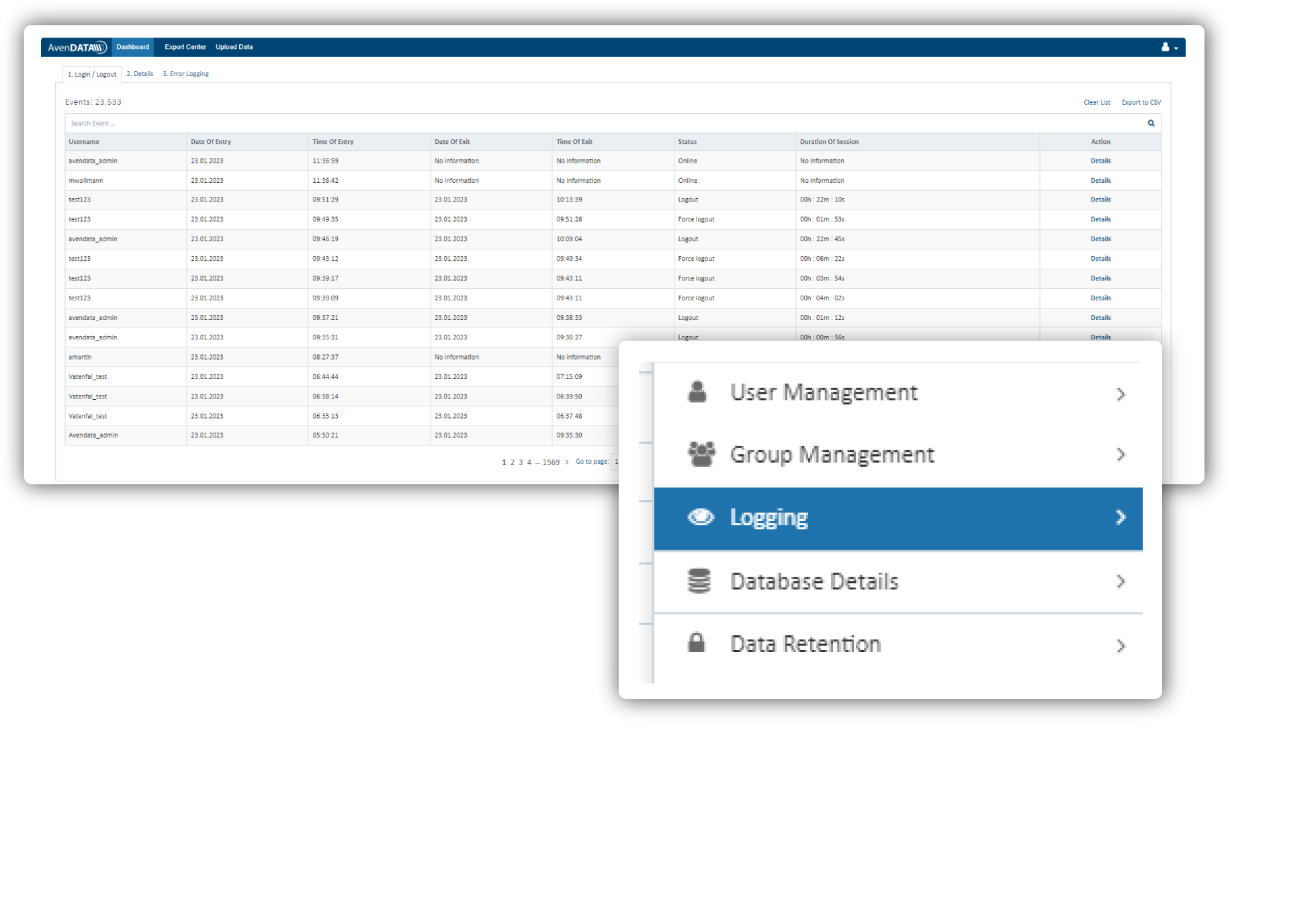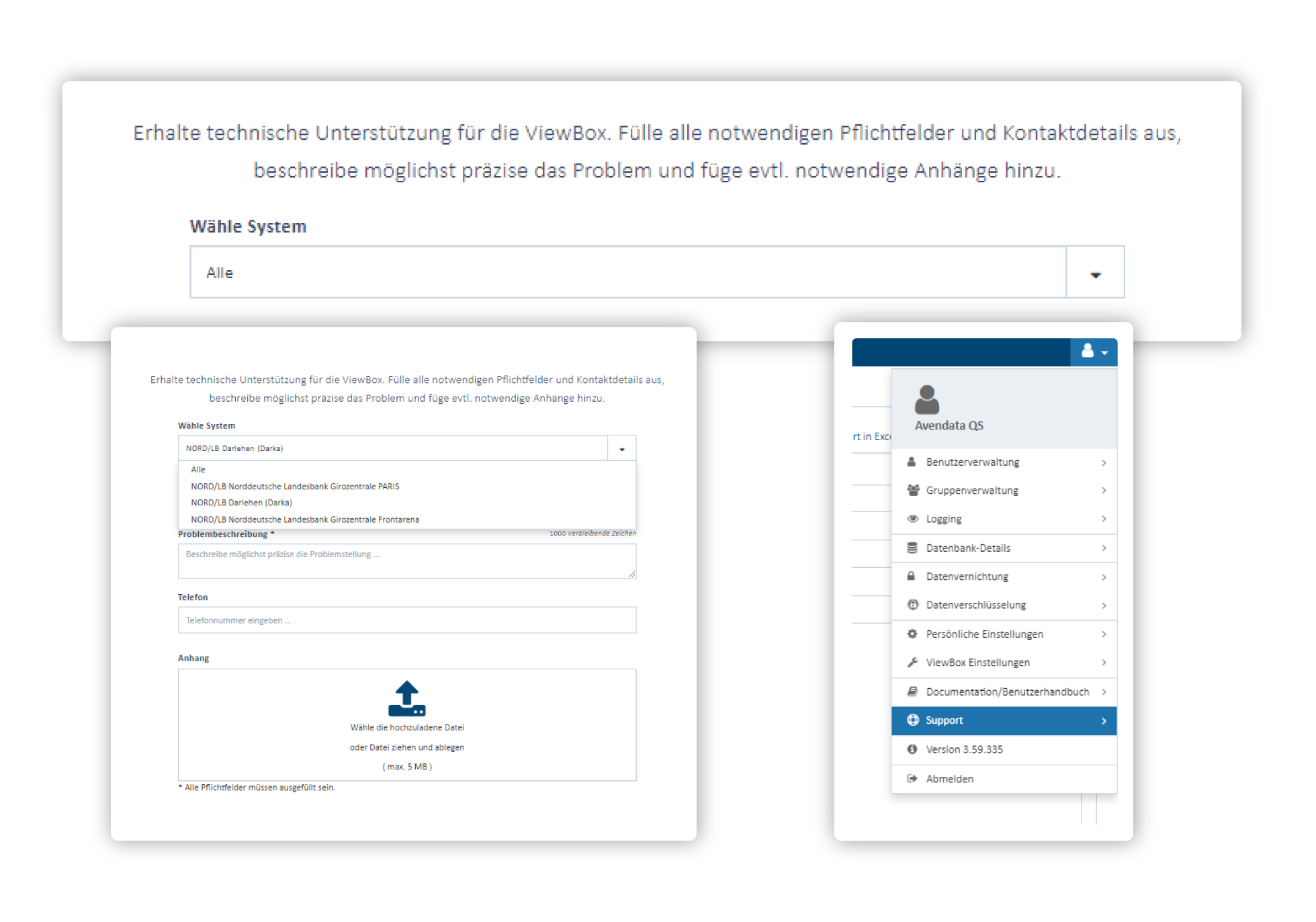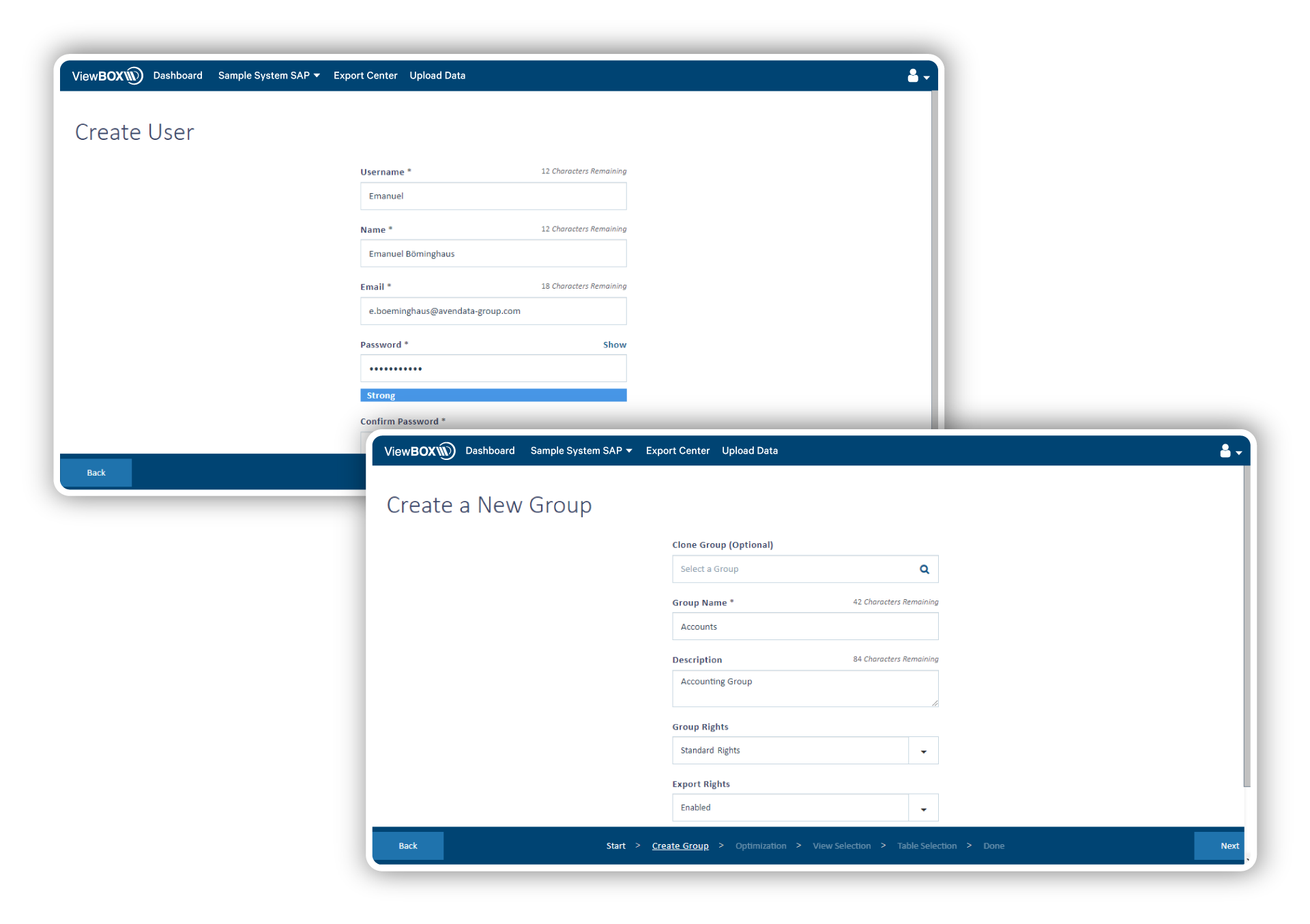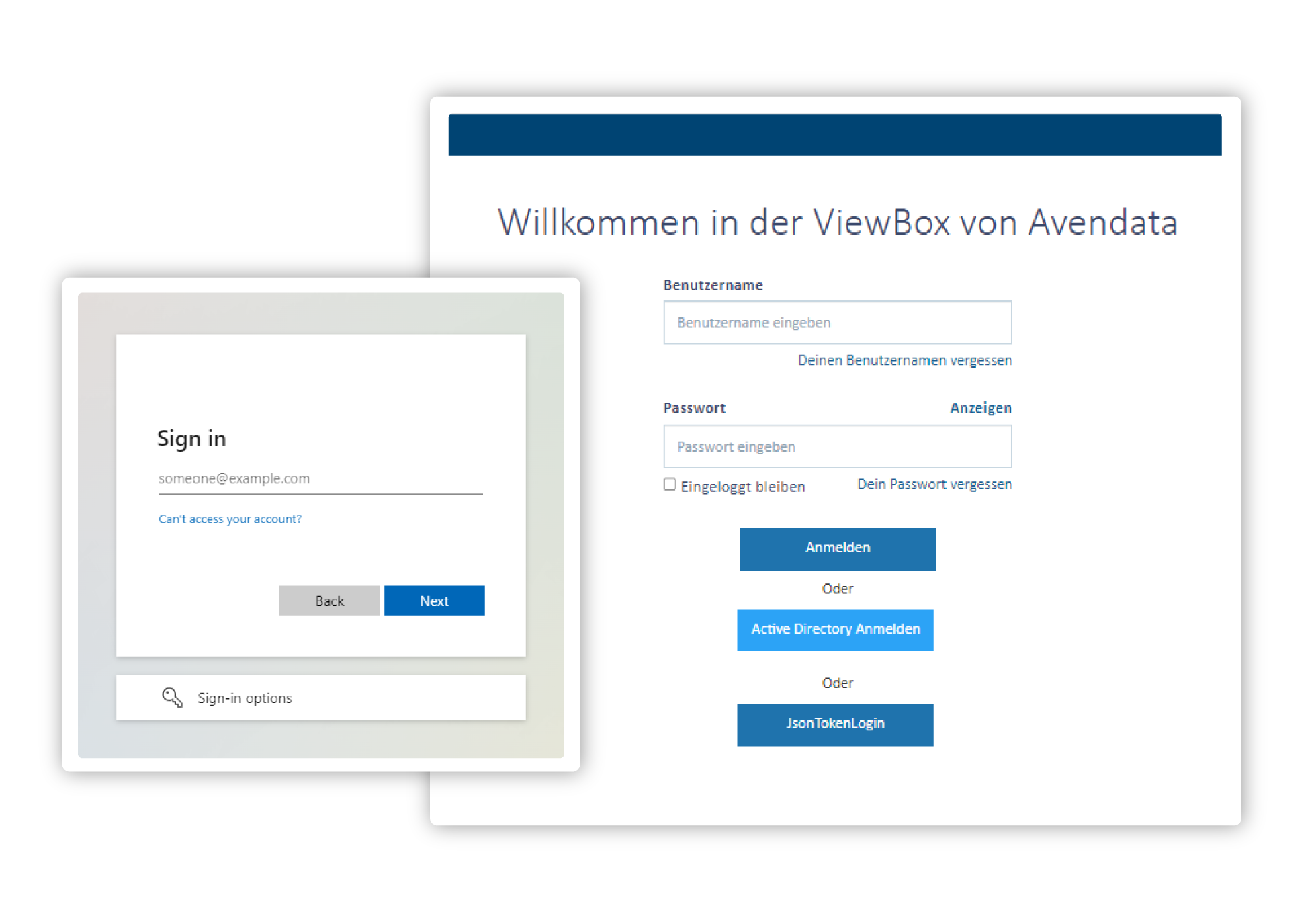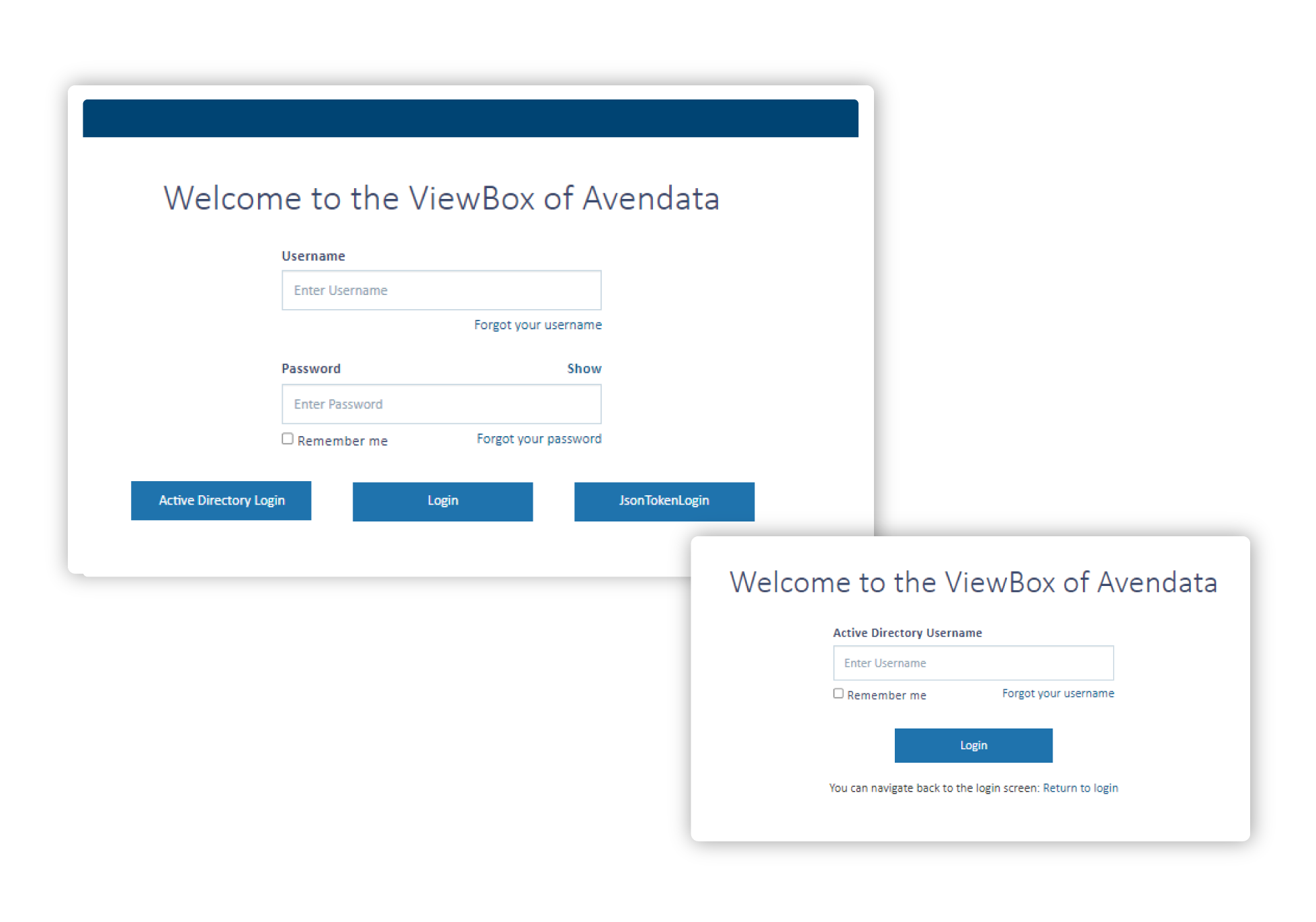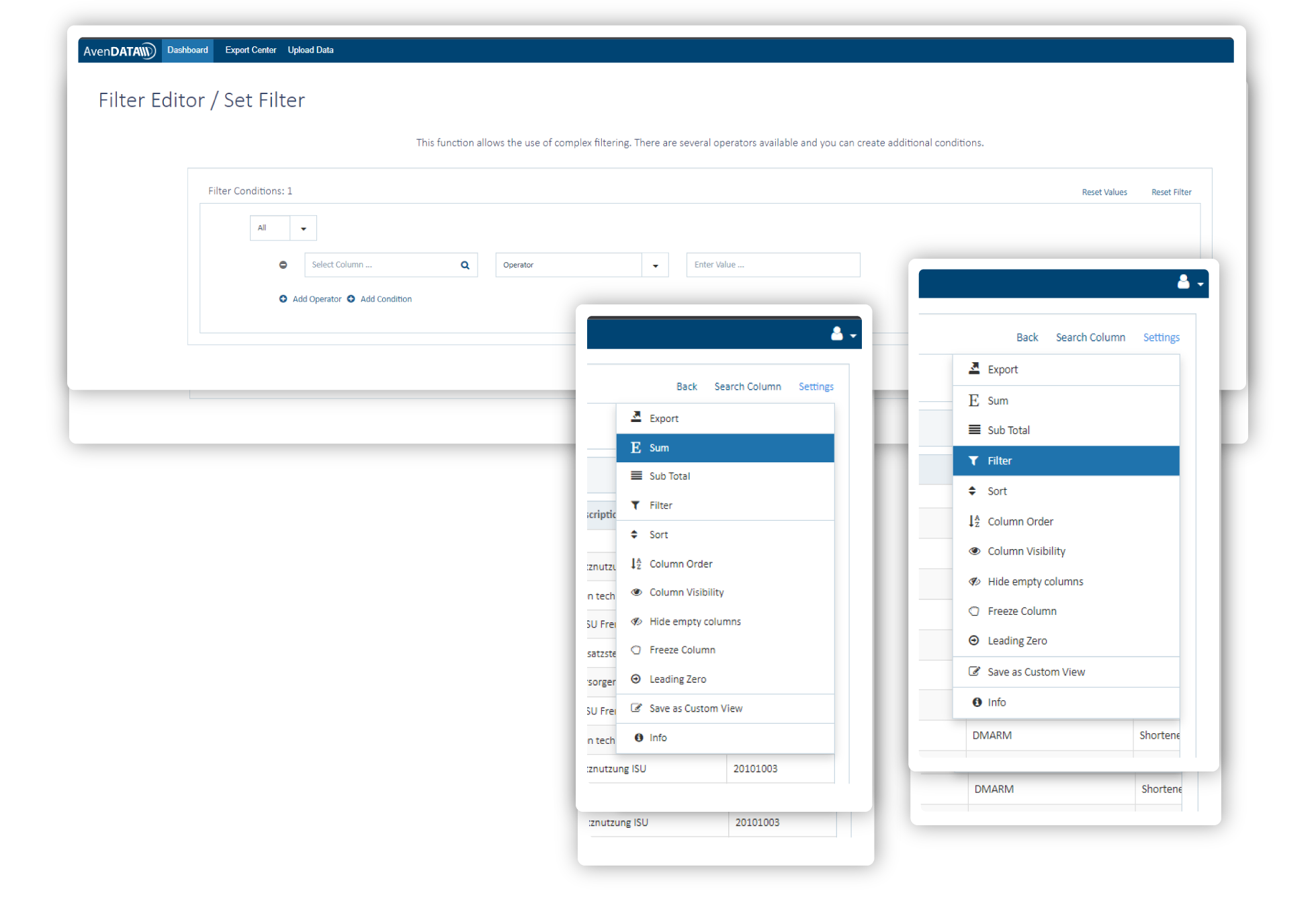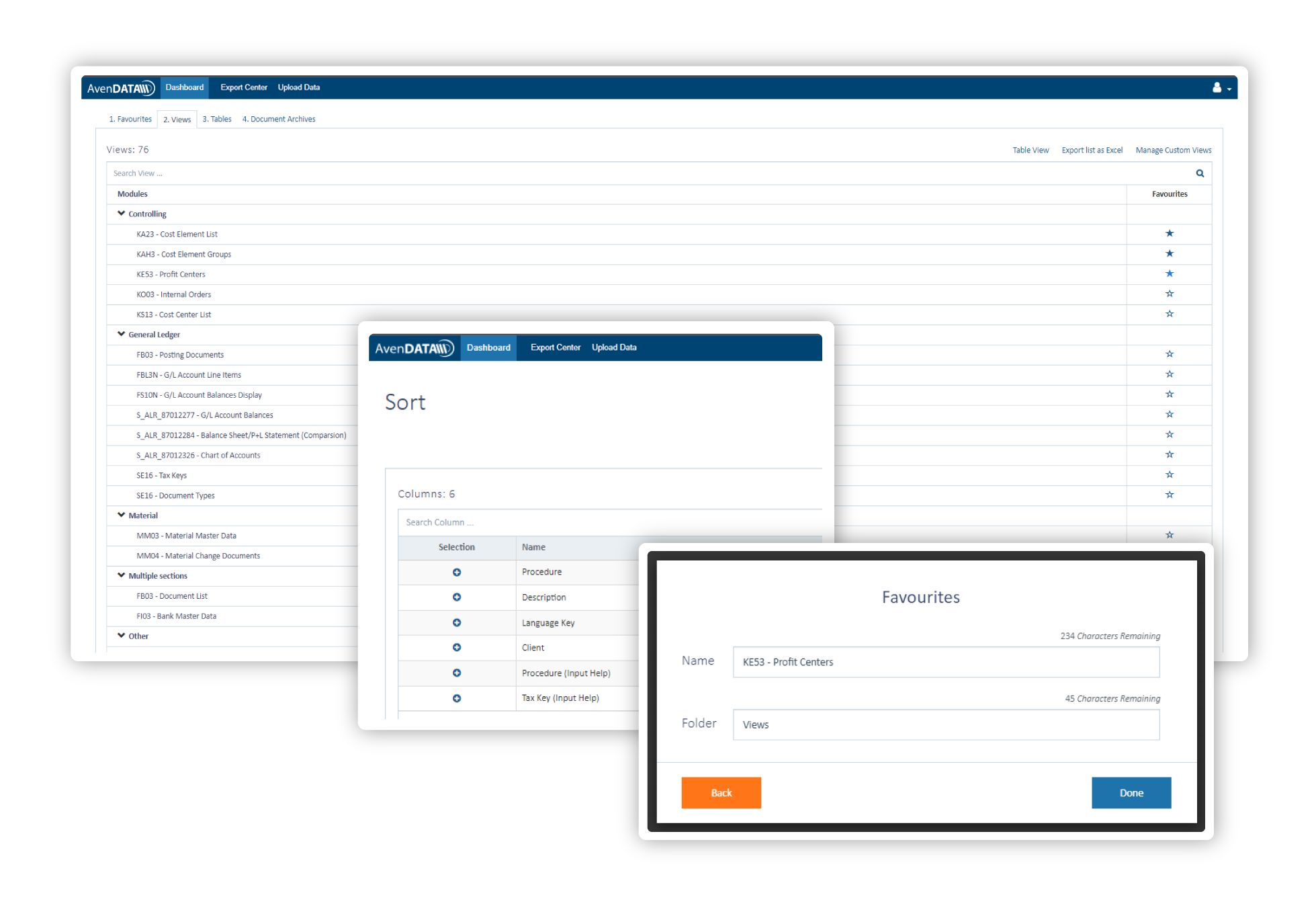 With this function, the archive data can be saved favored.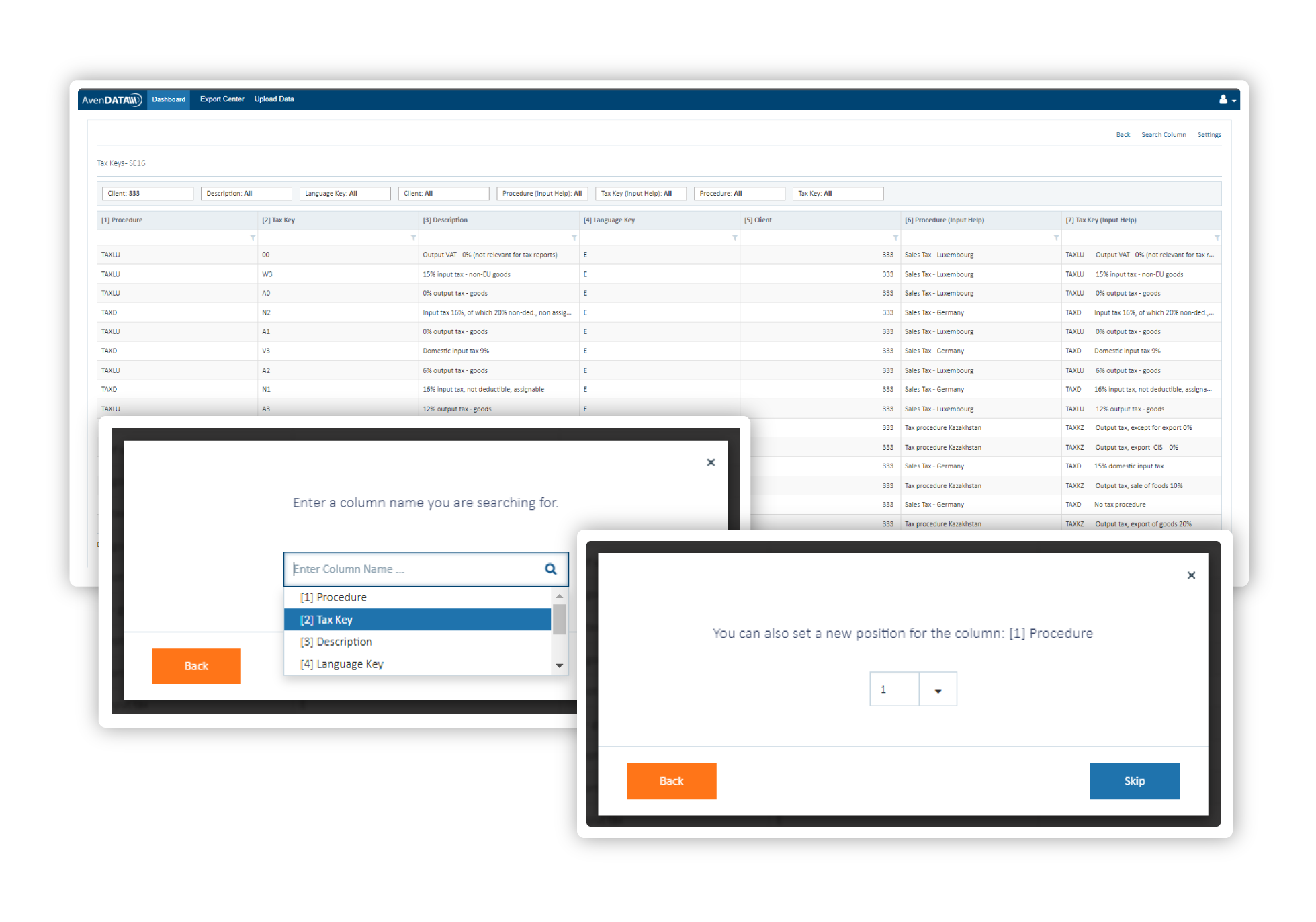 The data can be searched in a user-friendly and simple way.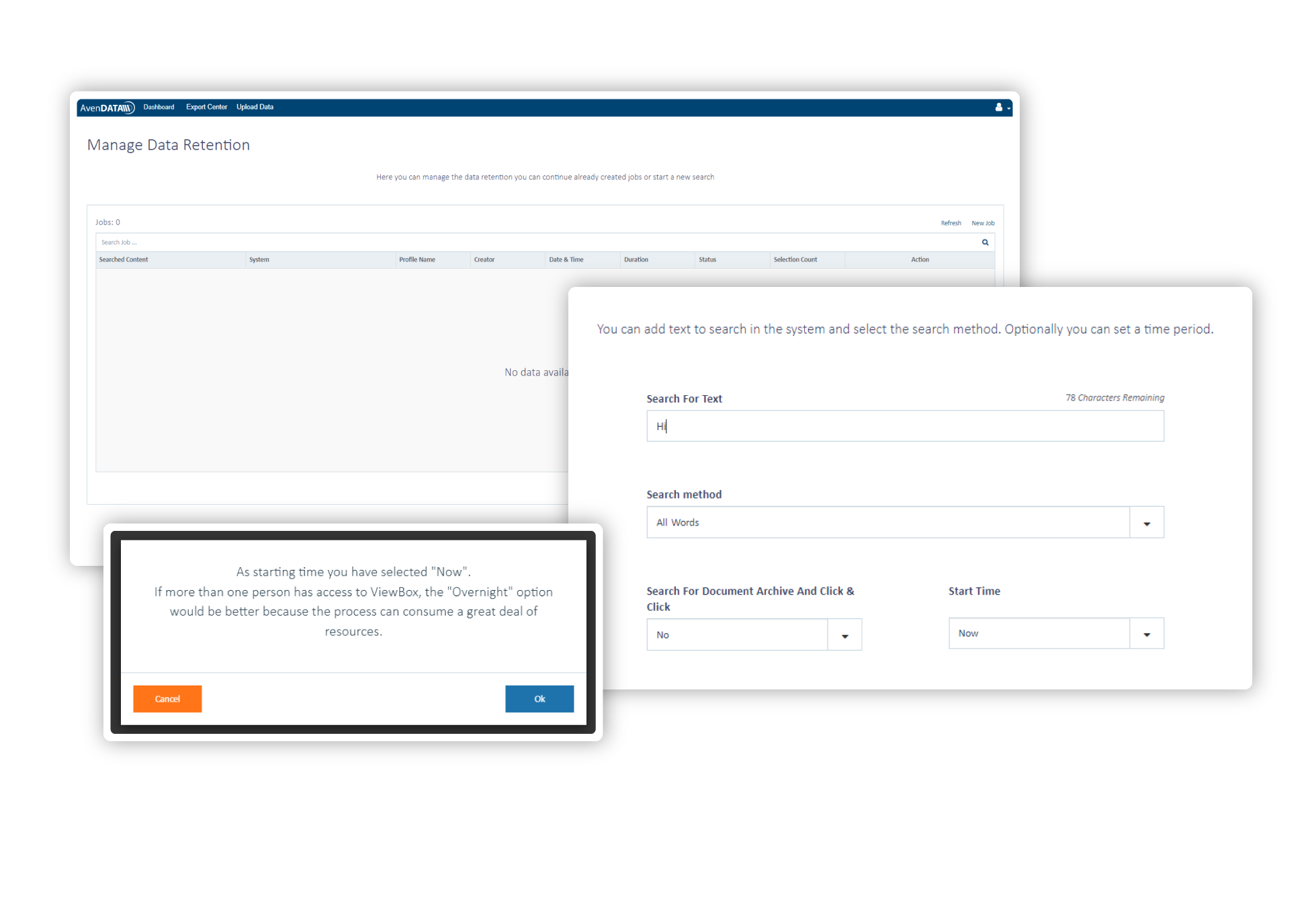 This module fulfills the legal requirements for data deletion.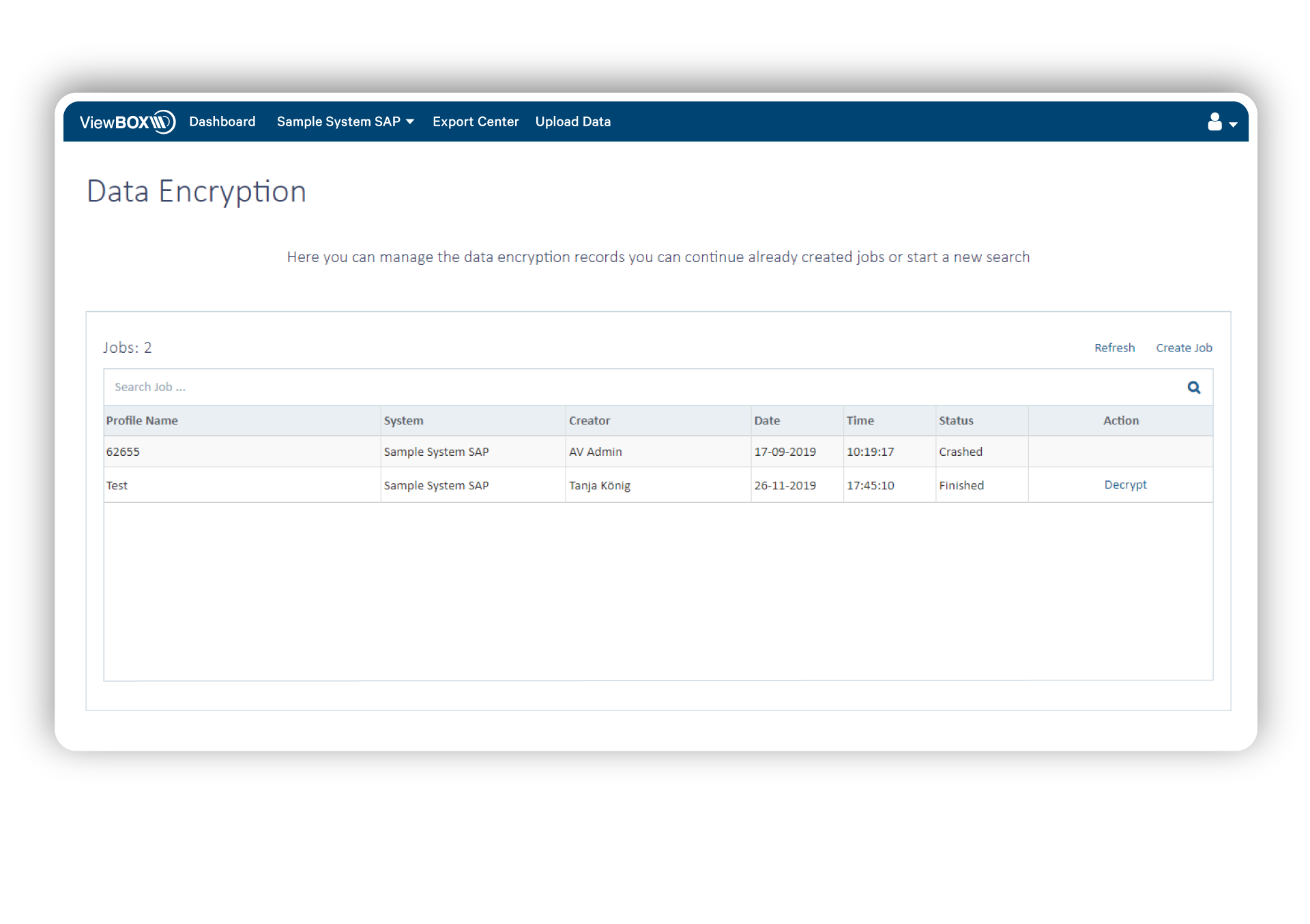 The data encryption feature of the ViewBox provides a high-level encryption service. ViewBox can effectively encrypt all the tables in situations of a worldwide hacker attack.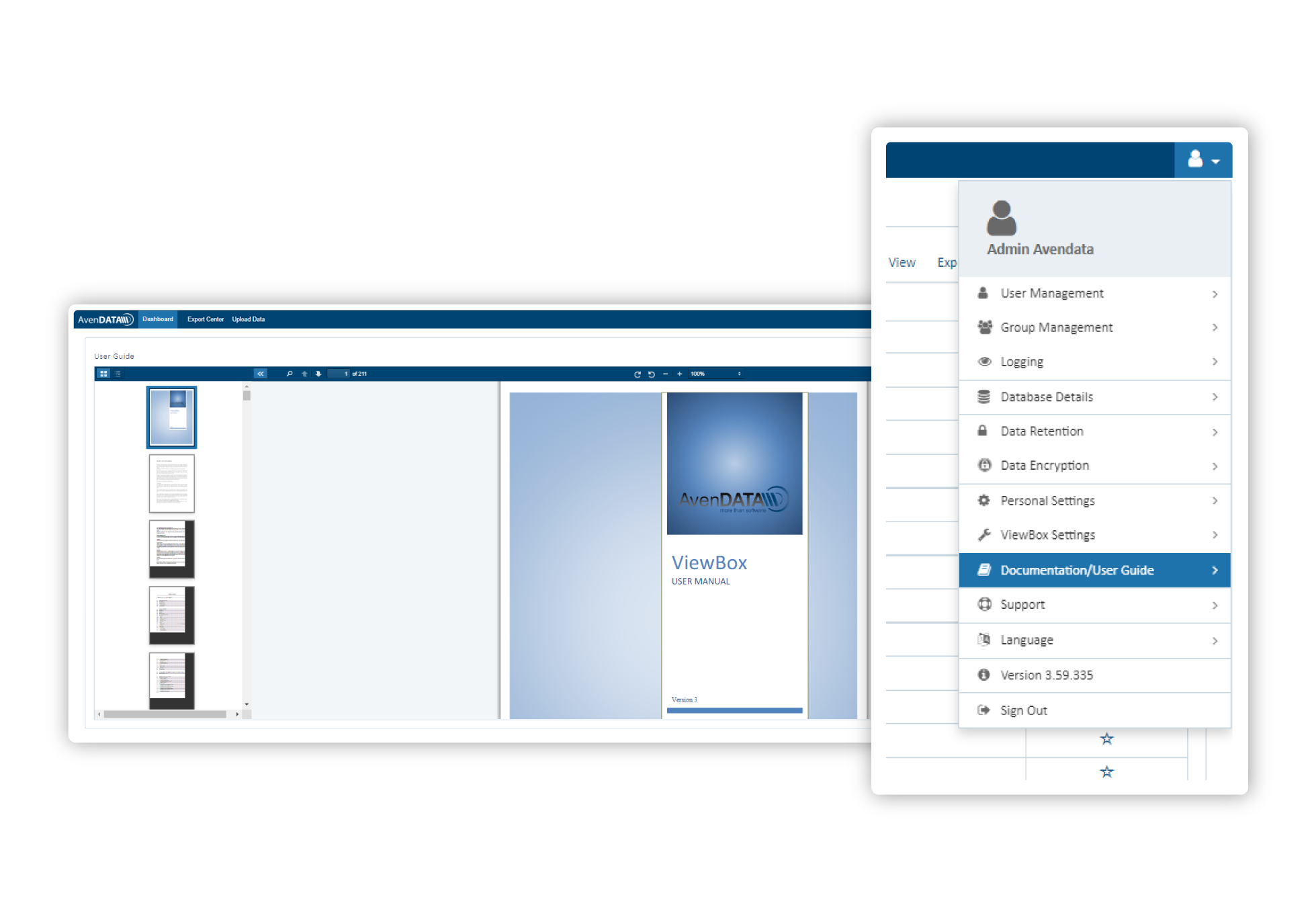 Documentation can be uploaded easily.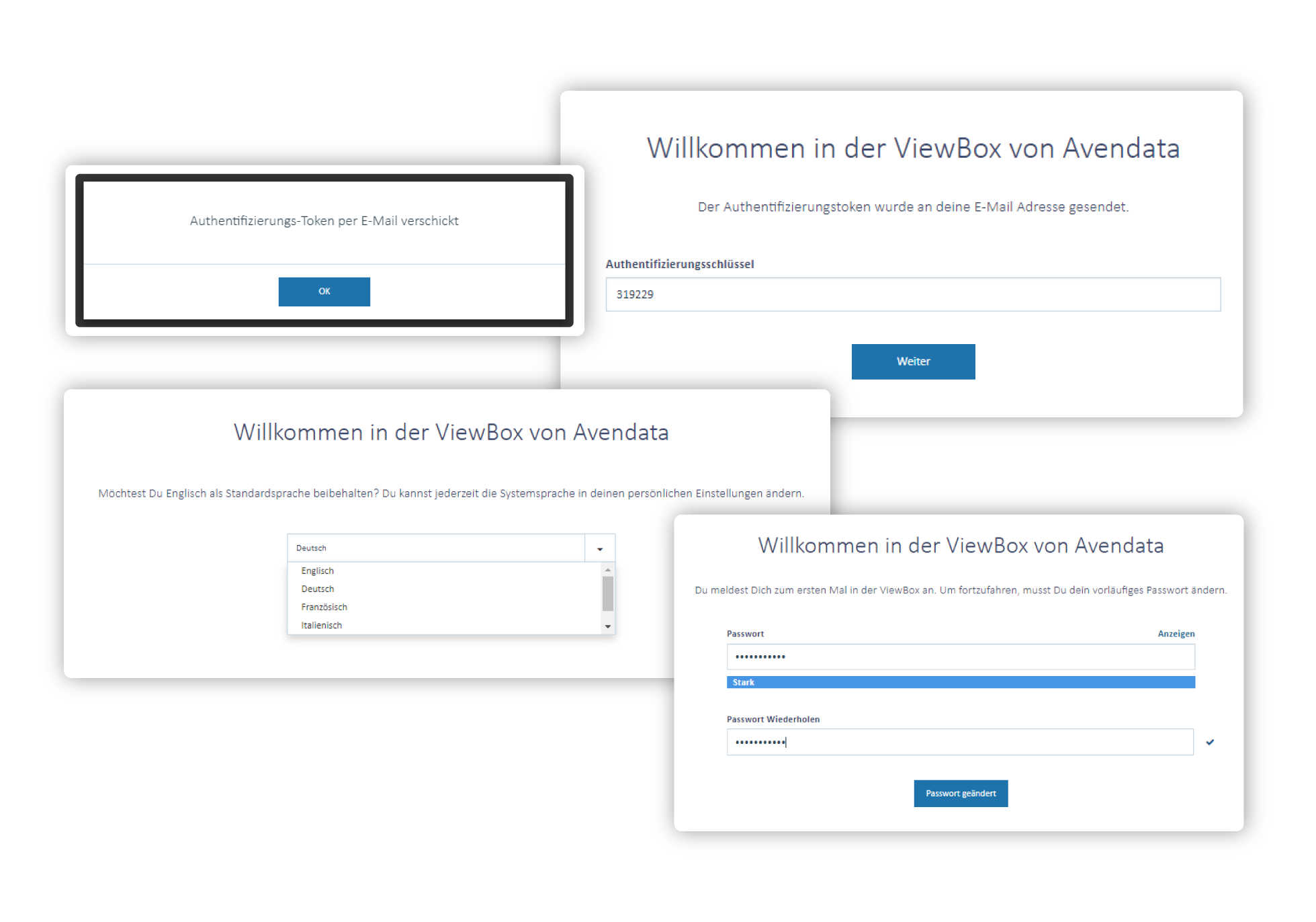 Login with secure 2-factor authentication by mail.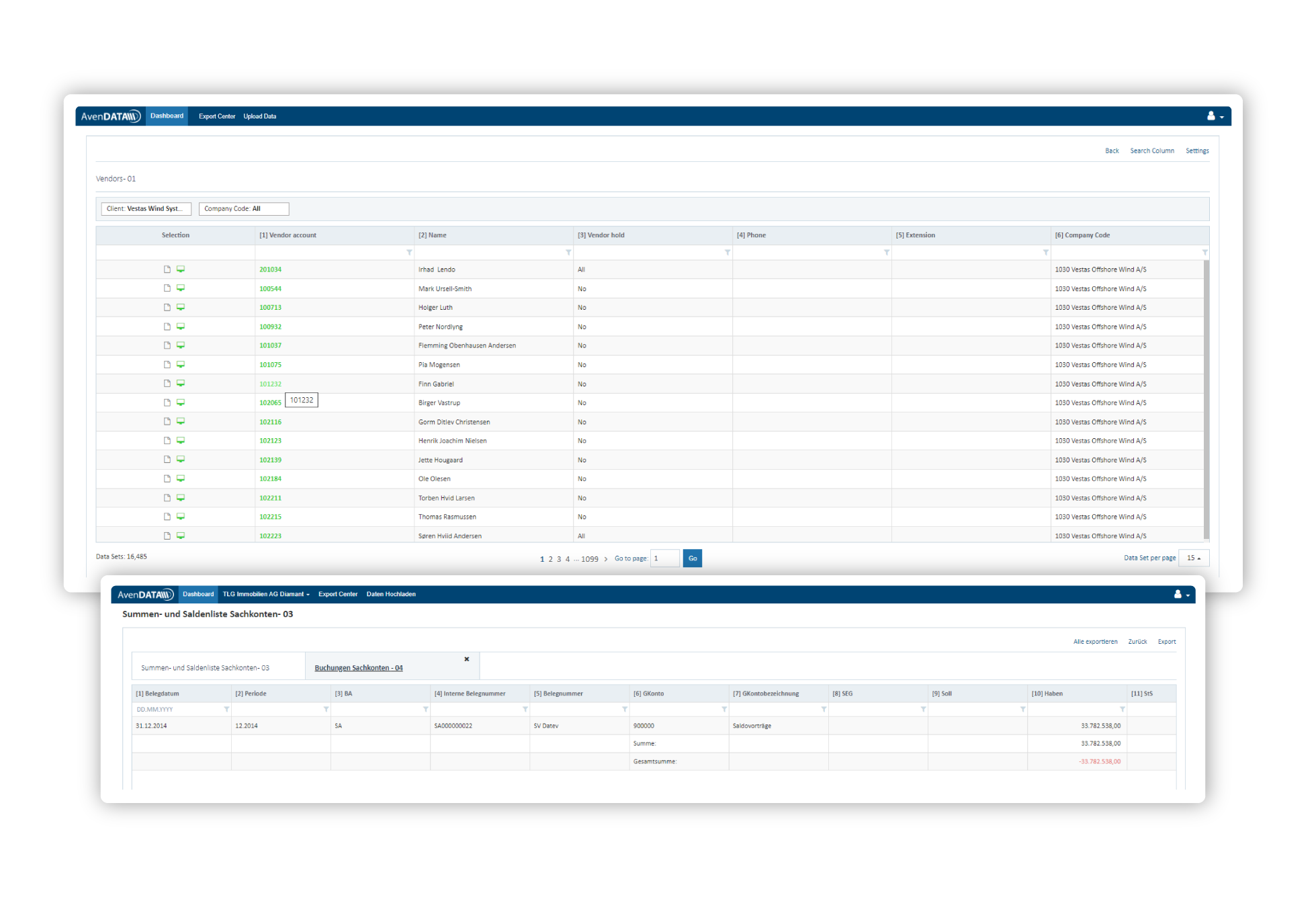 Both documents and views can be linked.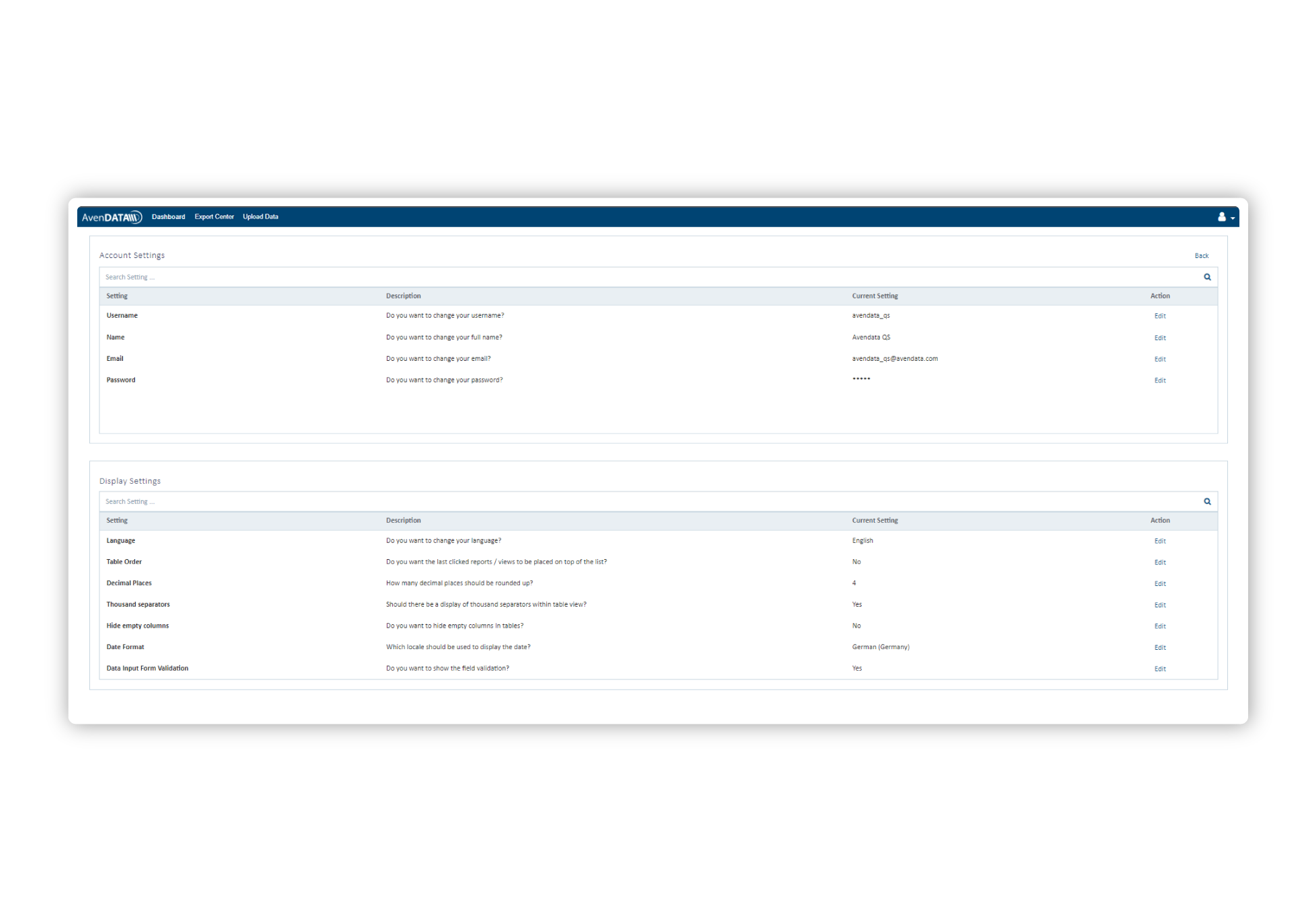 Data can be validated before input here.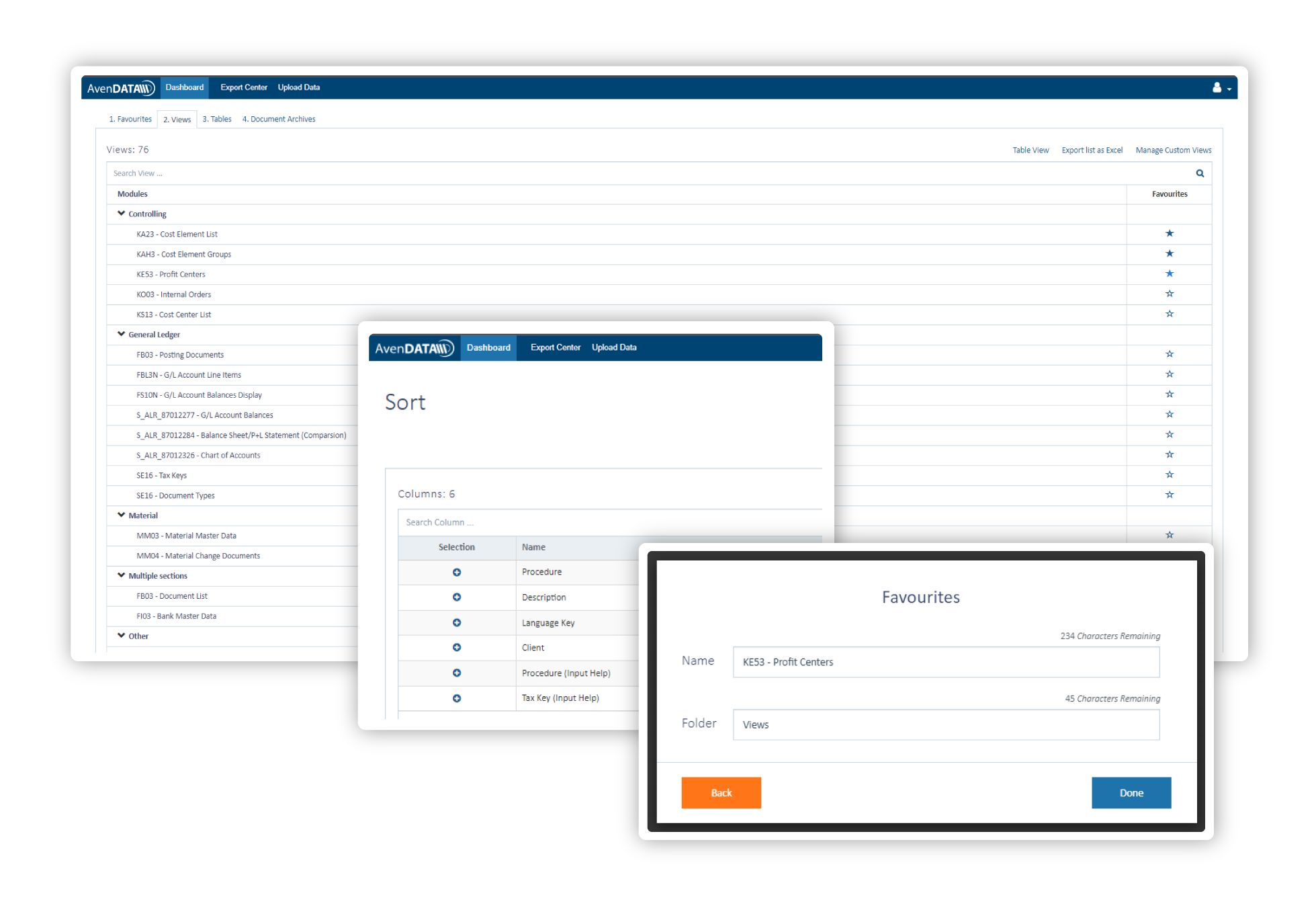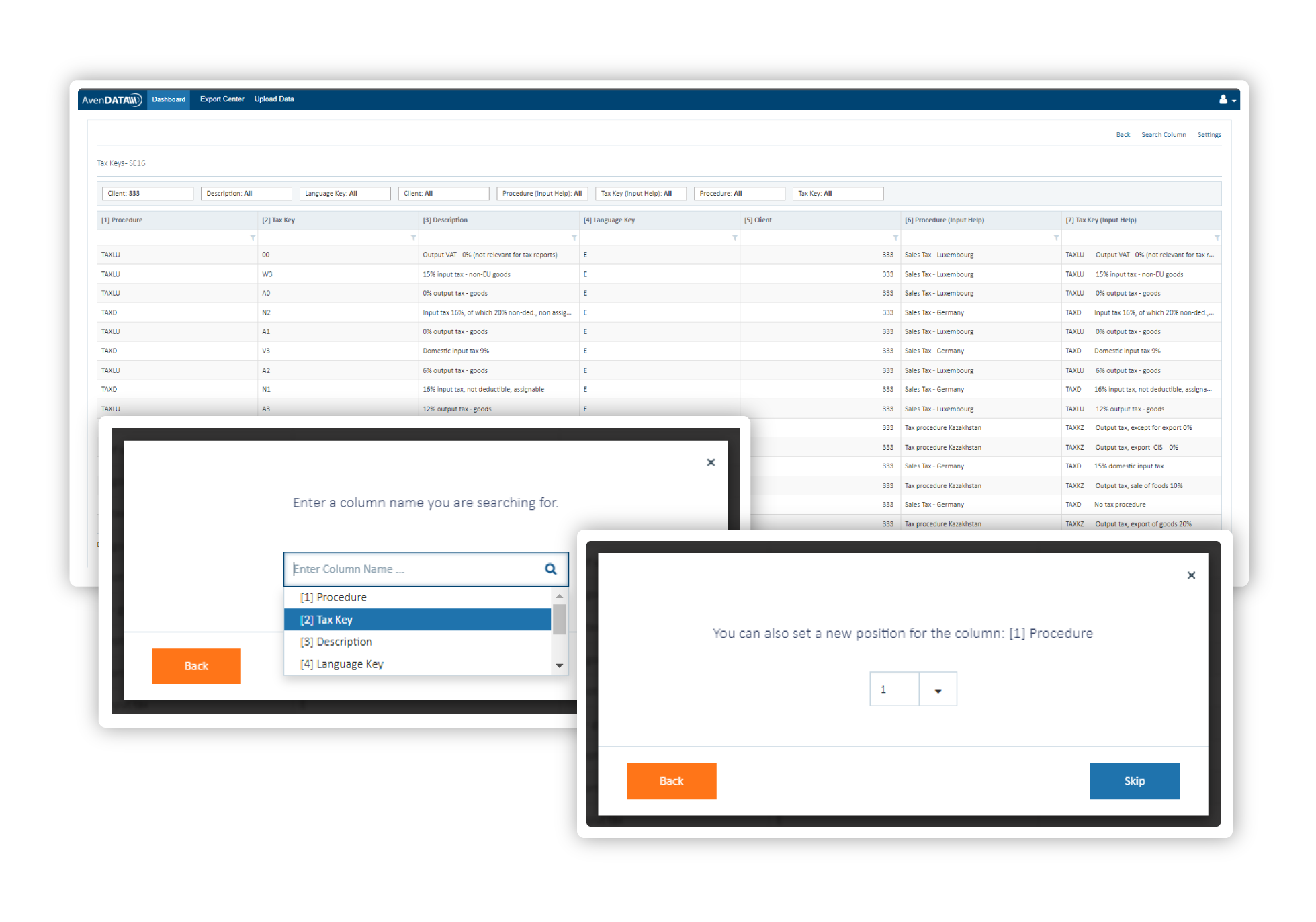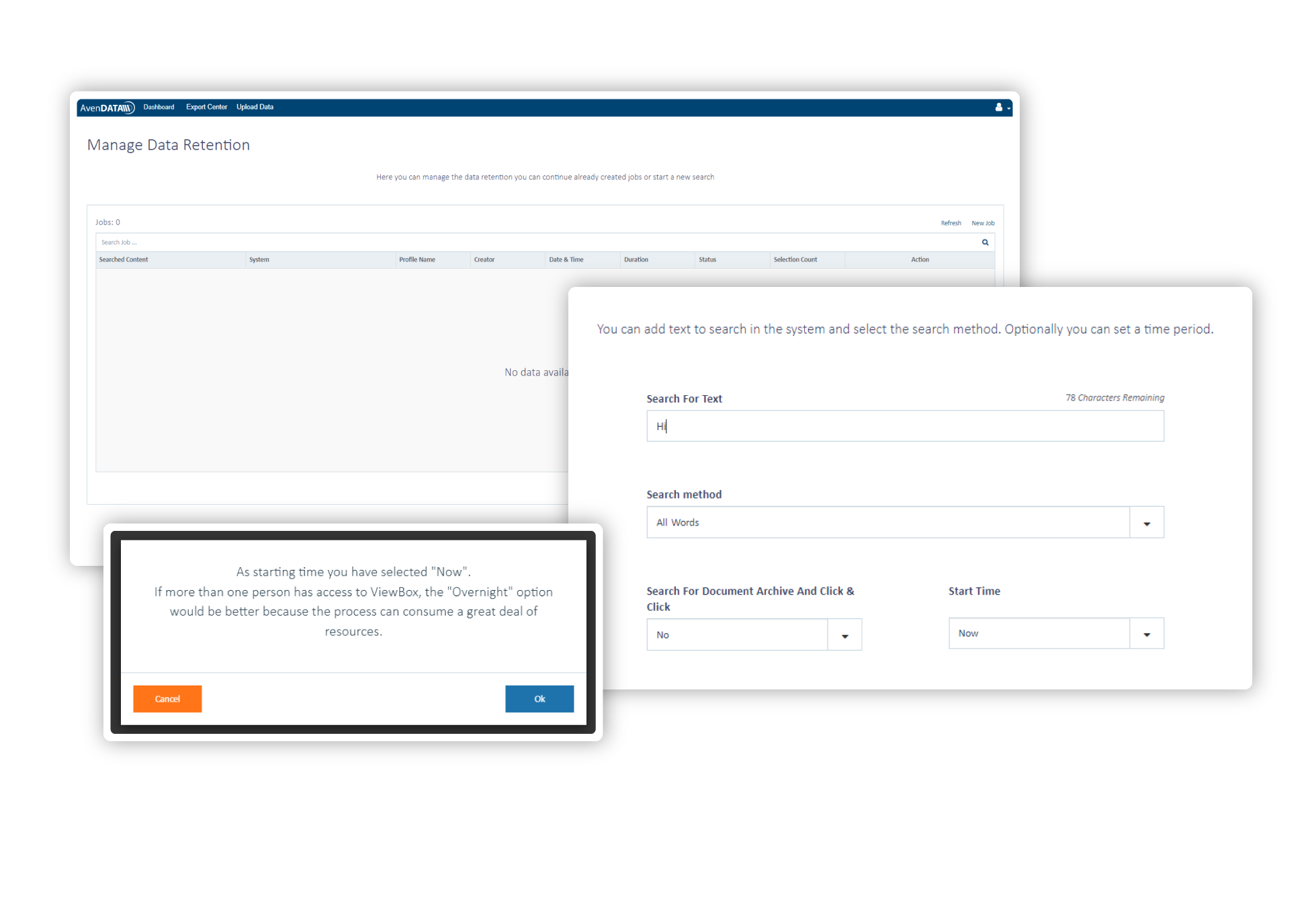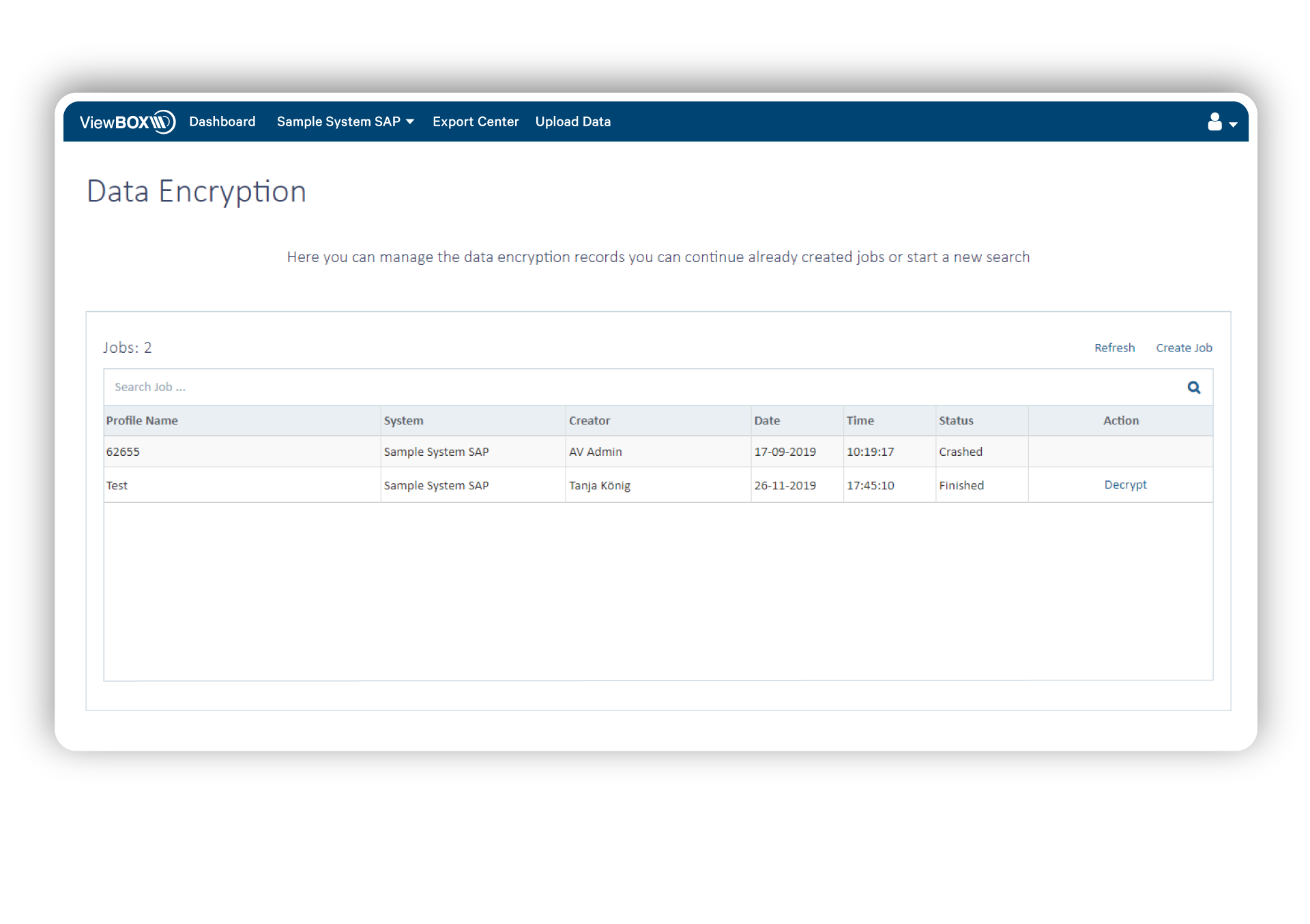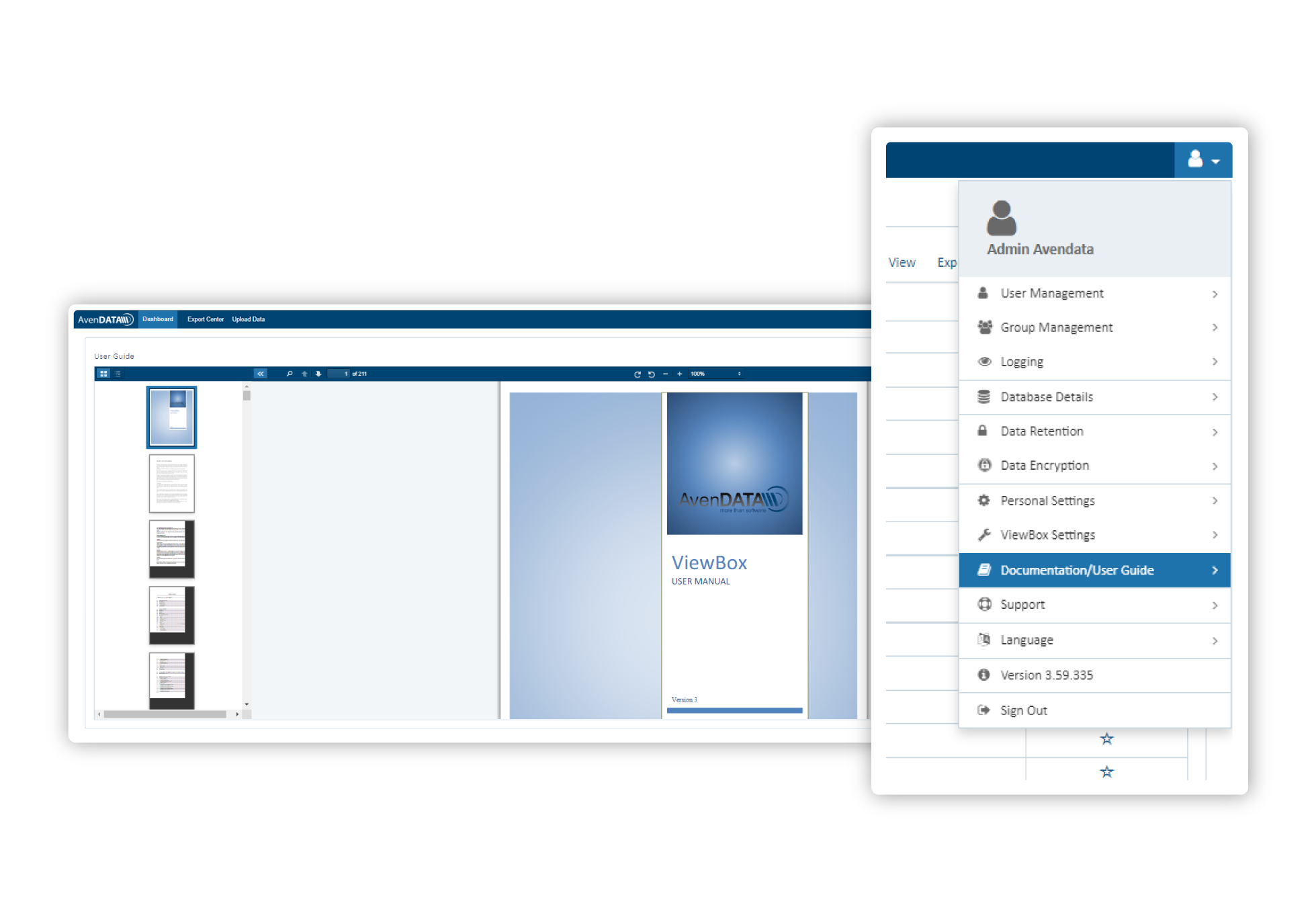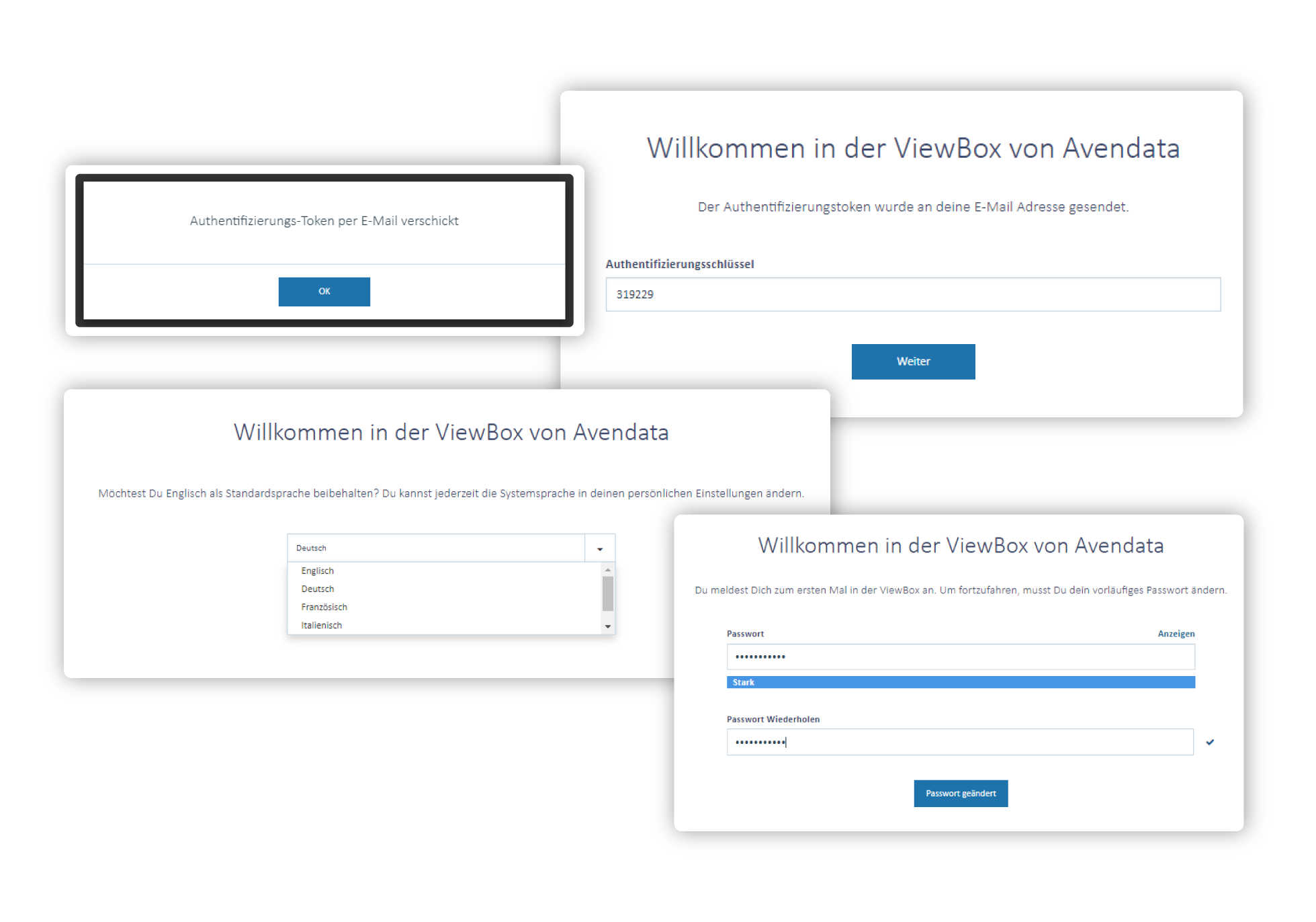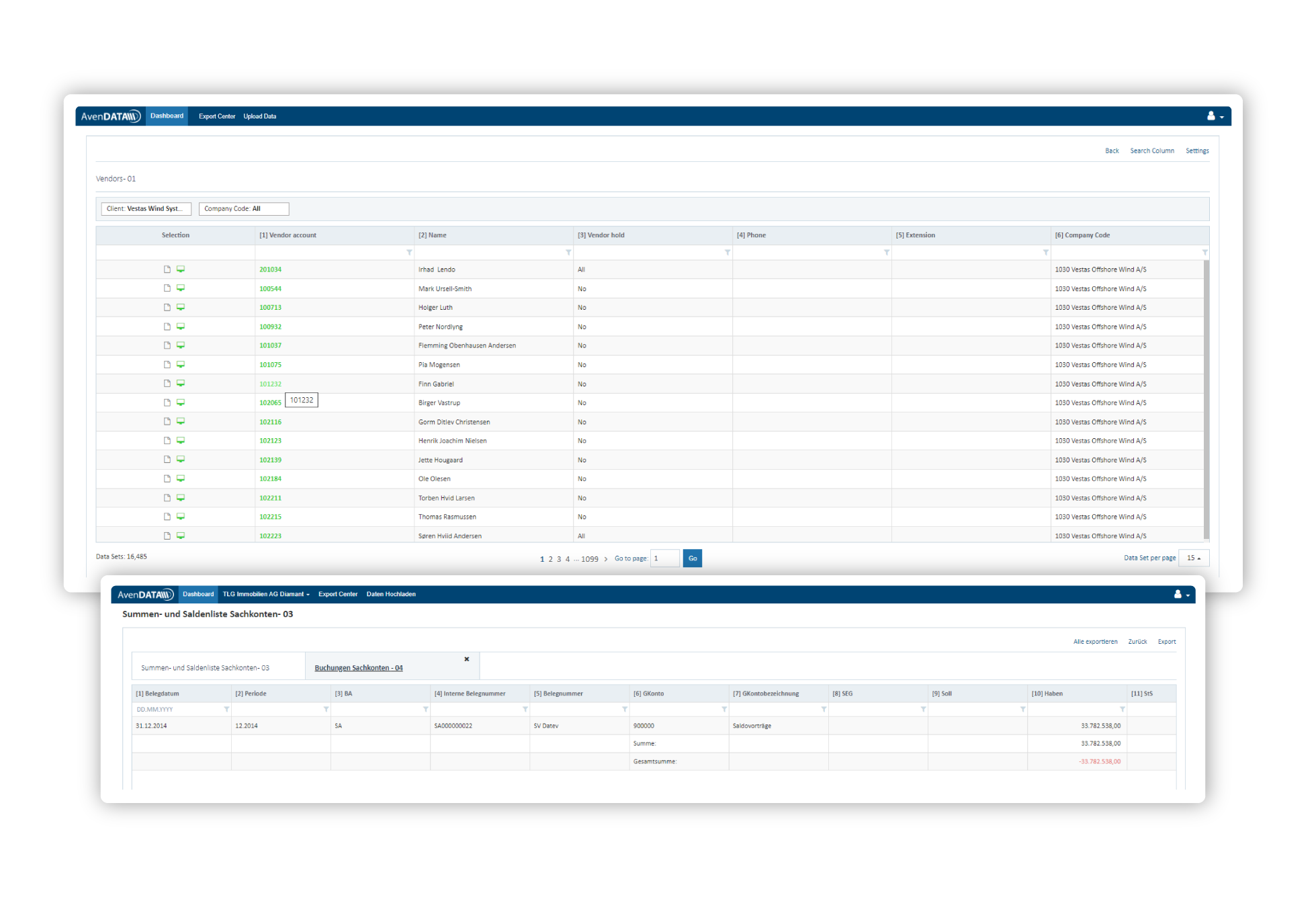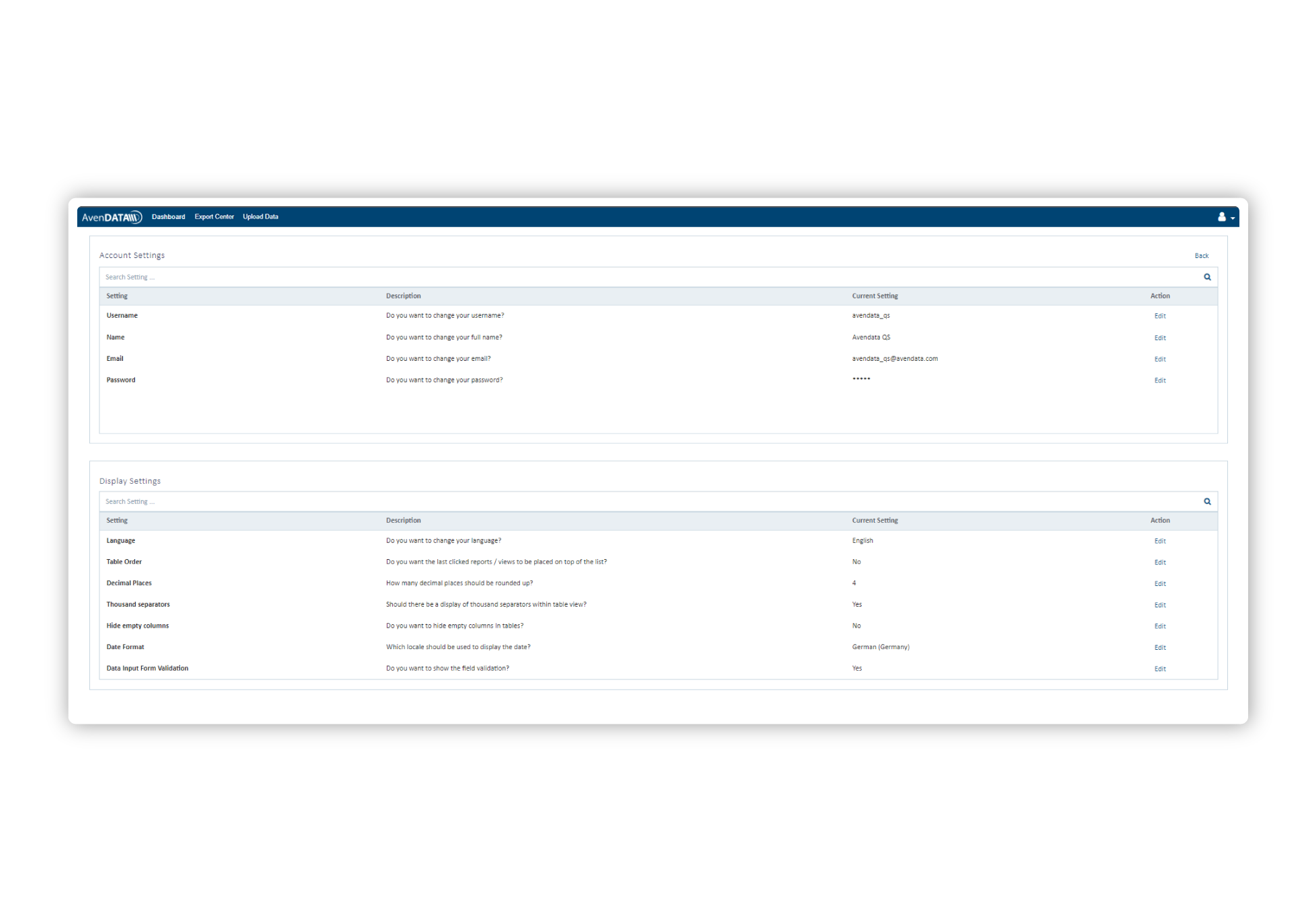 Cloud vs. On Premises Operation
With web application ViewBox you are flexible in operation. You can install the archive on your servers or
conveniently operate it in our certified data center in the private cloud. ISO 27001 certification ensures that
various security requirements for hosting can be met. IT security measures are reviewed and processes
recertified at regular intervals. In AvenDATA Cloud, we ensure renundant data storage for you within Germany.
With regard to backup, updates and support, you can sit back and relax, we will take care of these points for you.
We also support the operation of ViewBox with public cloud providers such as Amazon Web Services (AWS),
Microsoft Azure, Google Cloud Platform, 1&1 Ionos and many more.
Certified data center
as a cloud solution

We host our customers' data in a certified data center due to the high worldwide demand from our customers. These customer demands may arise from extremely sensitive sectors such as pharmaceutical industry, banking, insurance, and automotive industry to name a few. ISO 27001 certification ensures that all the security requirements for hosting are carefully analyzed and fulfilled.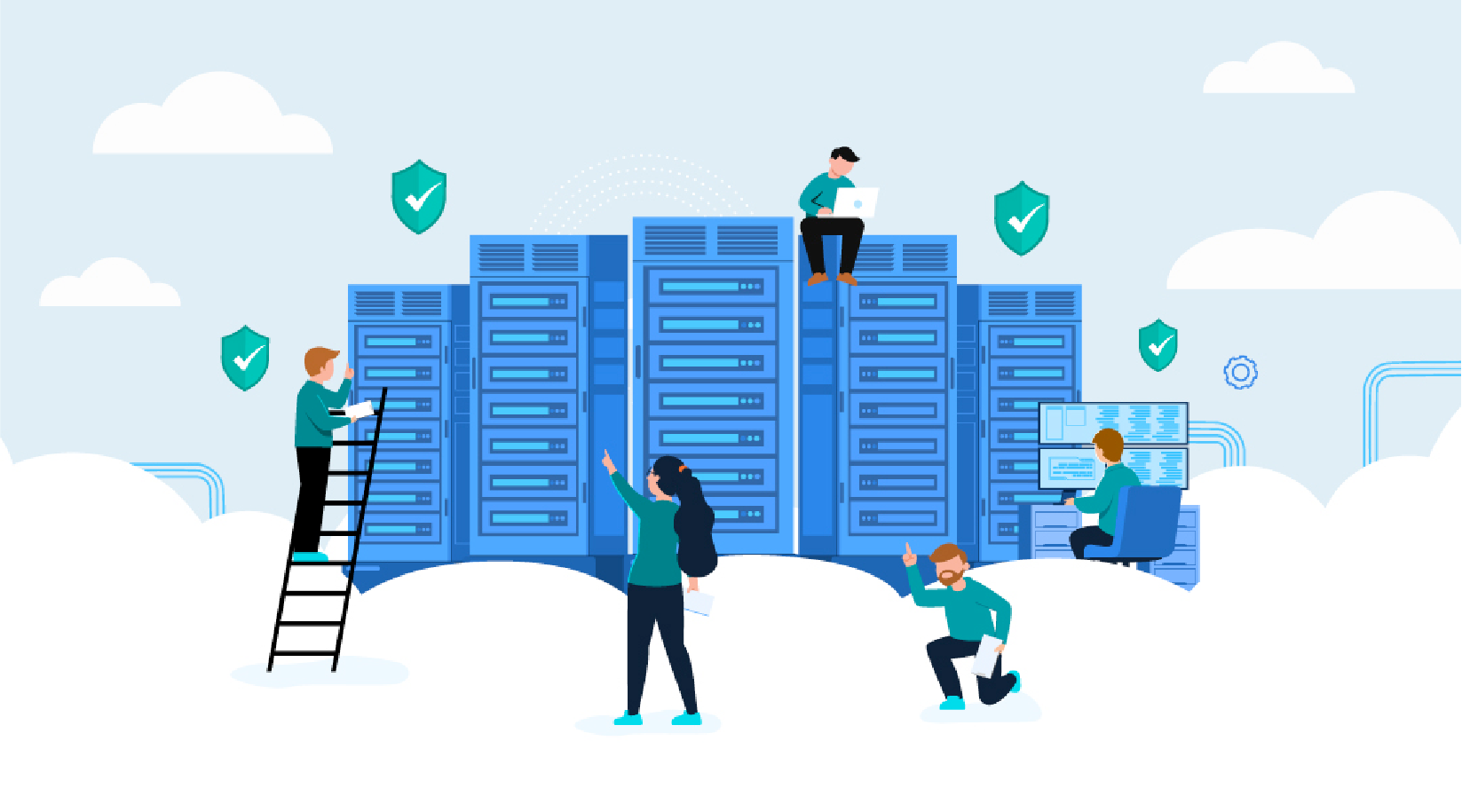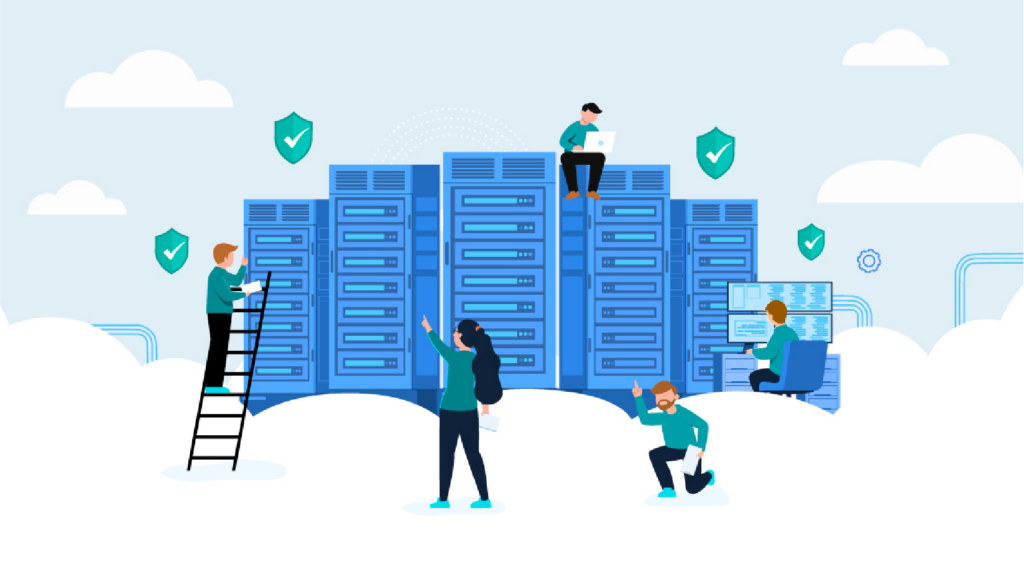 If you are looking for an application-independent archive for
both small and large data volumes, then ViewBox is your
solution. If you want to reduce IT costs without neglecting legal
requirements – then ViewBox is your solution. If you want to
archive both structured and unstructured data – ViewBox is
your solution. If you want to archive not only entire systems,
but also parts of them as part of a carve-out project, then
ViewBox is the solution for you.

We would be happy to present the software to you without
obligation in a webcast.
Further information on AvenDATA Group
AvenDATA was founded in 2003 as a spin-off of the renowned and internationally active auditing and tax consulting company Mazars
GmbH & Co. KG (www.mazars.com). In less than 10 years, we have become one of the leading providers in the field of legacy
system archiving and decommissioning. Over 200 employees work daily to archive data for companies. Our vision is to permanently
and repeatedly revolutionize the future of system decommissioning through our archiving projects and our ViewBox archiving
solution. In this context, we have expanded our core competence and accompany companies internationally in the implementation of
carve-outs in order to ensure legally compliant archiving after carve-outs.